After the usual breakfast, picked up Solus at the train station, the train was even on time!
Back to the house we went, with a lunch of home-made chicken noodle soup, with home-made eggs noodles. I used the bread machine to make a batch of dough, though I should have cut the recipe in half as I had enough noodles for 6 servings if not more.
2.5 cups flour
2 eggs
½ cup chicken stock
1 tablespoon butter
Pinch of salt
Throw the ingredients into the bread machine on dough setting, pull it out when it beeps to add nuts (should you have been making bread), roll out on the counter to 1/8th in inch, cut into slices, add to the boiling pot of chicken stock at the same time you add the frozen vegetables — only takes a couple of minutes for the noodles to cook since they are fresh, not dried.
The afternoon was filled with work on the Boltage project with more conference calls, and working on the site for the gathering:
http://www.hippysweatshop.com/
It's all done with the exception of the PayPal buttons on the registration paid, and testing to make sure it actually works like it should.
Dinner was roasted new potatoes, a Caesar salad (with anchovies and home-made croutons), steamed asparagus, pan-fried pork chops, and a lovely white from Bonny Doon.
After dinner (I don't know what got into me today) I whipped up a pineapple upside down cake from scratch because there were a pineapple slices left over from Sunday brunch that needed using up.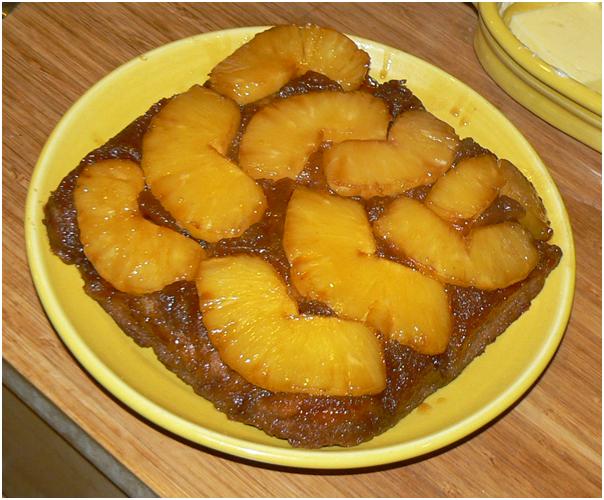 Next time I'll make it in a round pan to fit the plate better.
After dessert it was off to the hot tub with a glass of scotch. Life is hard.
[229.6]