A lovely scramble this morning before heading to the airport a little after noon. Taking Solus to the airport and picking up Jameson, nice to be able to combine the two trips, and let's Solus meet Jameson.
Lunch was a variety of leftovers from the fridge. A little chicken noodle soup, half a sandwich apiece, a little pineapple upside down cake.
And now for the odd. This "vehicle" was parked around the corner from my house.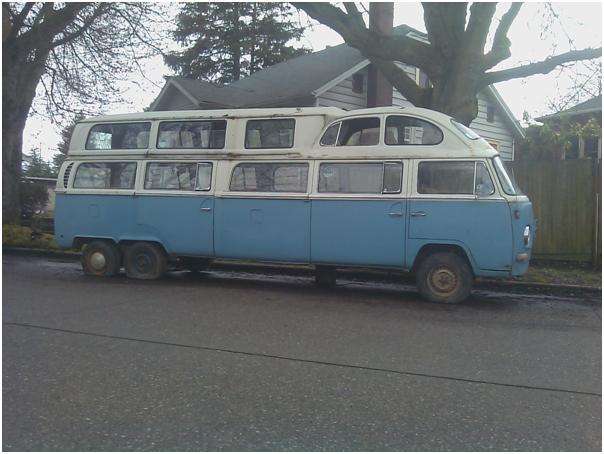 Let's see, I'm counting one beetle (with sun roof), and 5-7 van bodies… Truly odd.
Spent the afternoon running around checking out Bamboo Hardwoods, an antique mall on Lander, Dick's Restaurant Supply, and finally Crosscut Hardwoods. Didn't end up buying a thing, but it was a great way to kill time until cocktail hour.
In honor of Jameson's visit I grilled two massive steaks to go with the roast potatoes and Brussel sprouts and Caesar salad.
What a wonderful yummy dinner, and the hot tub afterwards wasn't bad either.
Jameson off to bed a ten since he was up at 3:30am this morning to make his flights.
[229.0]