Out of the house before 6 to get Jameson to the airport. Guess who went back to bed until 9 upon his return to the house?
And speaking of houses. I've noticed a bunch more "For Sale" signs popping up in the neighborhood, including one on the next block that belongs to Dorothy who used to be the lead viola player for the Seattle Symphony until she retired in disgust over Gerald "The Jerk" Schwartz and his refusal to retire when the time was ripe.
Here is the map of what's for sale in the hood: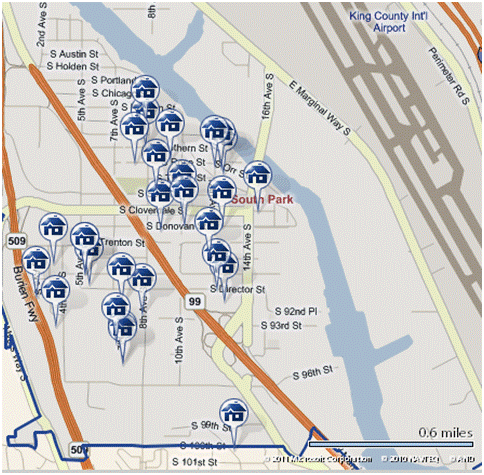 Twenty-seven houses for sale with Dorothy's being the most expensive at $330,000 (3 bedrooms, two baths). The least? $119,000. Ouch. Judging from the competition, I'd give a present value of mine at $175,000 which is under the $210,000 of the original mortgage, but more than what I owe on it.
Other than researching real estate, spent the day trying to tie up loose ends on the PayPal integration with a non-profit I'm working with. Finally starting to see some light at the end of the tunnel. I might be able to put the buttons on the site tomorrow.
As for tonight's dinner experiment — pan fried egg noodles (fresh frozen from the batch last week) with spinach and shrimp in a Thai peanut sauce. For a total guess, it came out amazingly well.
Off to bed.
[229.4]