Today's only picture is an homage to Howie Sue, a man I once wanted to marry, but who turned me down with the phrase, "I don't want to end up like that movie The Days of Wine and Roses" (Jack Lemon and Lee Remmick, 1962). It took me ten years to see the movie, and then I finally got it.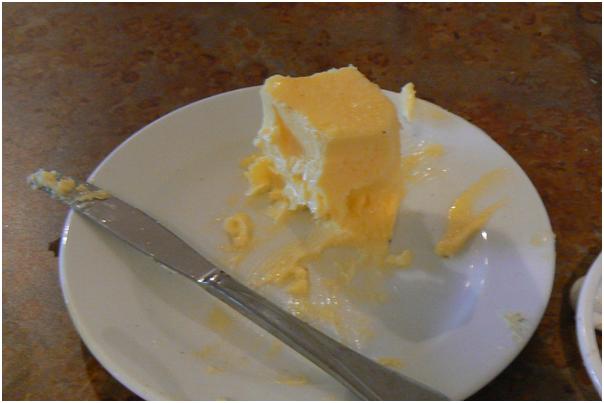 This is what two pudgy old white guys go through in a pound of butter in one week. He commented on the shrinking butter in the photos from Whistler.
We got out of the condo at 9:30 with the hope of getting to Seattle in the early afternoon. That was the hope, not the reality.
In one of those "wonderful" (sarcasm, not the friend) cross border experiences, it just didn't go that way, even with both Rich and I having Nexus cards for the "speed lane". It was still faster than the regular lane, 15 minutes compared to 80 minutes, and still worth the $50 for the five year pass. I also discovered at the truck crossing the duty free gives you a ten percent discount on non-discounting items (excluding tobacco, which at $56 a carton isn't that good a deal compared to coming into Canada at $36 and the exchange is at par). The two pack of Jameson for $39 (2 liters) was already discounted, but now I'm signed up.
We didn't get back to the house until 4:30 having had to pick up a couple of packages at the apartment:
25-pair telco to stub cable
Telco bridging adapter
And then there was all the mail at the house which contained:
Two belts to work prototype from
But what I really needed where the two packages Missy grabbed from my front door on Monday:
Samples from 3M
Lighting tube sample from the lighting designers
Besides making bread and cooking dinner for three, I totally trashed the dinner table (before dinner) doing up a new sample for the Boltageâ"¢ project from all the materials that arrived in the mail (with the exception of the telco stuff, which is another project). The new sample was curing as I was putting the steaks on the grill. Thanks Rich for getting the coal going.
Dinner? Steaks and shrimp on the grill (I passed on the shrimp having had a bad experience before a previous trip), salad, fresh bread, a couple of bottles of wine and not much sleep later as I was packaging the sample, getting it posted, and finding someone to swing by the house on Monday and take it to the post office, OH, and packing for a weeklong trip to Cabo San Lucas.
Really, NOT ENOUGH TIME TO SLEEP.
[? ? ?]