Nothing like spending your morning "tan time" sans-clothing on the upper deck reading Armistead Maupin's latest book, Mary Ann In Autumn, with a Bloody Mary in hand. I don't want to leave, and I can't afford to stay on past Sunday. Such is life.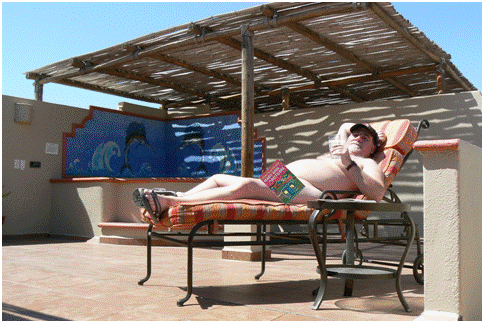 I'm sure I got the book out of the remainder section at SFO (San Francisco Airport), but the minute I say that I realize it could have been a gift as well, probably Christmas.
The morning meal, usually in the 10-11am range, was scrambled eggs, ham, tortillas, fresh melon. Fairly damn healthy.
Later In the day I finished the Maupin (in under 24 hours) and am onto a Calvin Trillin book from 1984 called Killings, a compilation of New Yorker articles on "odd" killings around the country.
PuPu Platter of the day was salami, cheeses, crackers, and Gin and Tonics followed by more reading and tanning.
Dinner was green mole pork with tortillas, pico de gallo, and a salad chock full of super ripe tomatoes. Curt's wine of the evening was a Mexico Merlot that opened up nicely (2006 Don Luis Cetto Reserve Merlot, Guadalupe Valley Region).
Considering we packed five movies to watch while we are here, this is the first evening we've gotten around to it though we did watch a bit of the Woody Allen move Zelig before dinner. Tonight's movie was Transamerica with was directed by the brother of one of my high school friends I'm still in touch with (a director and Foley artist in his own right).
Here's the Amazon box review:
Emmy® winner Felicity Huffman (Desperate Housewives) won the Best Actress (Drama) Golden Globe® Award for her "fiercely funny and deeply powerful" performance (Pete Hammond, Maxim) that is "thrilling to watch." (A.O. Scott, The New York Times) Huffman plays Bree Osbourne, a conservative transsexual woman, who learns she is the parent of a long-lost 17-year-old son (Kevin Zegers). The wheels of fortune take Bree and son on a cross-country adventure, including a memorable visit with Bree's parents, that will change both of their lives. A funny, touching, completely original look at the modern American family, "TRANSAMERICA will leave you in a state of movie euphoria. It's hilarious and deeply affecting." (Joe Morgenstern, The Wall Street Journal. "Felicity Huffman is incredible. One of the year's most unforgettable performances." -Stephen Mooallem, Interview
[? ? ?]