I love early afternoon flights. You get up at leisure, you have your coffee, you take your poop, you have a little breakfast, and THEN you head to the airport. Or in my case, to the apartment to leave the car, then take light rail to the airport.
I was all checked in and in the lounge at 11:05 for my 1:05pm flight. Oddly enough, they collected my coupon for the upgrade — last I'd looked there were still seats available. Hopefully I on't have to use the other one next Saturday. It would be nice to have a round-trip set to save for a long flight — like Cabo San Lucas in November.
Flight was good, which means on time. It was the same sandwich for lunch that was on the Cabo return, apparently the menu changes tomorrow. For those who have forgotten, it's a turkey, provolone, roasted pepper sandwich on a ciabatta rolls served warm, with a cold salad on the side. Next time I think I'll just stuff the salad in the sandwich.
My bags were on the carousel by the time I made the trek in for the end of the "A" concourse. And Dan and Lisa were waiting curbside at door 411 — talk about easy.
First stop of the night — Tokyo Joe's, a fast casual Japanese food restaurant whose claim is "No MSG, No Fried Food". Good, fast cheap — light dinner for three $20. It seems that they have dozens of locations, but only in the metro Denver area. Too bad.
Next stop — First Bank Center to see the Denver Roller Dolls take on the Philly Belles ins a roller derby match. What a pleasantly odd way to spend a Saturday night. Dan, Lisa, Sean, and Sean's woman friend whose name I forgot, but pleasant none the less.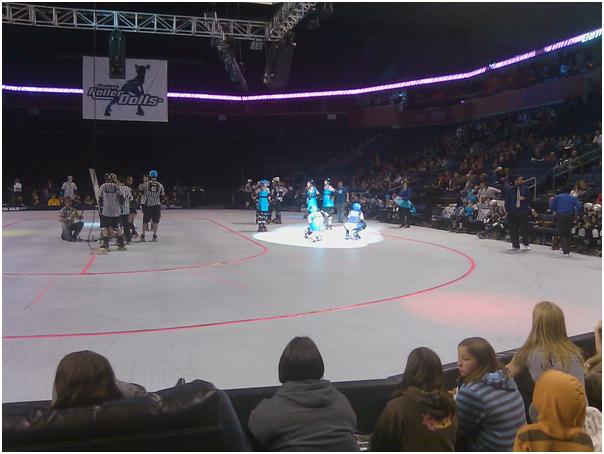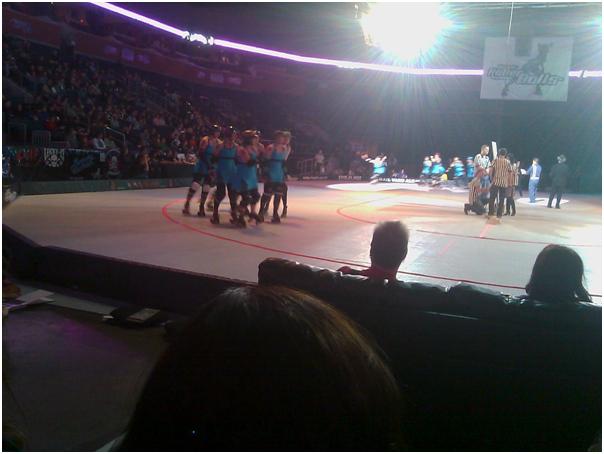 It took three trips to the bar and three trips to the souvenir stand before I was sated — lots of stickers, one t-shirt, and three doubles. I'd like to go back sometime and get a sky box for the match as the stadium is small enough that you're still not that far from the action.
Last stop is Dan and Lisa's new place in the northern suburbs of Denver, and the bed calls.
[228.7]