I tried to put off getting out of bed, and I must have because the rest of the morning was a fairly good clip to get everything packed and ready to go. At least Dan and Lisa cooked breakfast and left some for me to reheat.
Out of the condo at noon, the appointed check-out time. Lisa driving, Dan at shotgun, UncleMarkie in the back.
Intermediate destination, the Arco Gold Mine in Idaho Springs (Colorado, not Idaho). By the time we got there we were all more interested in lunch than a mine tour, though we did go to the gift shop after said lunch.
As for lunch, probably the best patty melt I've had in years, though, once again, I'm in a food coma for the rest of the afternoon. Hilldaddy's (is that like a SilverDaddy but from the hills?) Wildfire Restaurant, right on the main drag near the eastern exit from I-70.
But back to the mine: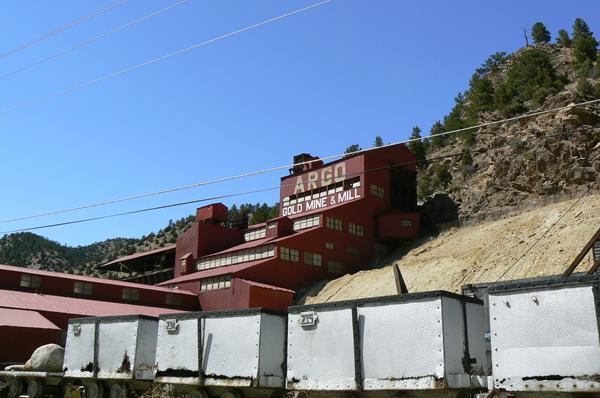 Having been to a gold mine last month (the Britannia Mine in southwestern British Columbia), it was fine to miss this one. But apparently up the road in Georgetown there is a steam train route. Sorry I didn't know about that. Might have gotten out of bed earlier! We attempted to stop by an antique store on our way out of town, but when we arrived after lunch… the amusing sign was posted on the door ¯ "Gone to pick up the Grandkids, back at 4". Too late for us.
I napped while Dan ran errands (pick up the dogs, new eyeglasses from WallyWorld). Or I should say I tried to nap. Damned warm today, and the sun is out.
Nothing special for dinner tonight, with the big lunch all we did was nosh as each of us got hungry.
My evening was spent loading the rest of the software on to the new computer. That would be the part of getting a new computer that I REALLY hate.
But one more photo to share since it is Cinco de Maya today: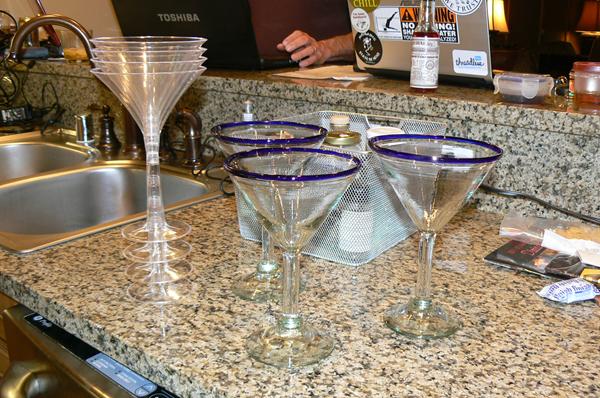 Those would be the martini/margarita glasses next to the stack of plastic ones.
[? ? ?]