Not enough sleep last night. Something about to bed at 2am, and up at 6:30 for a 9:30am train that leaves one a little groggy.
Well, it was SUPPOSED to be a 9:30am train — by the time we left the station, it was 10:30… something about an engine inspection that ran a little longer than expected.
On the upside, that gave me more time to enjoy a lunch in the dining car after my red baron courtesy of Amtrak and having booked a roomette for the four hour trip. It was an additional $51 dollars, but includes champagne when you get on, pretty much as much champagne after that, lunch in either the Parlour Car or the Dining Car, and, of course, your roomette with two seats, a table, and an outlet.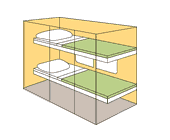 That has to be the worst graphic for explaining a roomette, but it's what the Amtrak site has.
It's a pretty trip south of Tacoma, which I think by 2012 they are going to cut this chunk out to shorten the Seattle to Portland run by 15 minutes, so check it out while you can.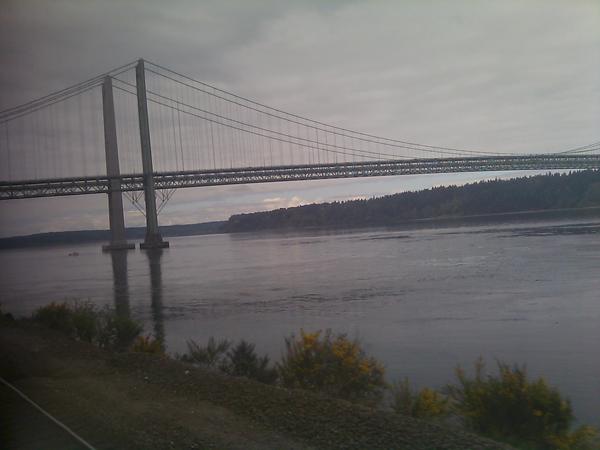 It was actually a little clearer than the picture would suggest, but between the cell phone camera shot and the tinted train window, it makes it look pretty dreary. I took the picture to send to my friend Fernando who is coming to visit Seattle in about a month.
Leave an hour late, get in an hour late, that's how the train usually works, and did this time. The light rail connection is about a block from the train station, and it's a straight shot to Julian's house. Got the ticket, got hit up by a couple of street urchins who were looking for a couple of bucks "to get a bus ticket to Virginia" which I doubted since they had two straggly dogs in tow… no cash, but I did give them one of the splits of champagne that I snagged from the train — I do believe it made their day.
Spent the rest of the afternoon hanging with Julian while working on getting us a dinner put together — veal chops and grilled zucchini, with a roasted garlic bread/gorgonzola/paté plate to begin with. By the time we were ready to grill, two of his friends showed up. I knew there was a reason to have brought down four of the chops.
It was an early night for me… by 10pm I was in bed. The half-an-hour nap on the train wasn't enough to make up for last night's lack of sleep.
[228.5]