Nothing starts a day like a Depot Dog (a German Sausage from Home Depot) while picking up new washing machine hoses. The old ones had these spill stop valves in them, that, was stopping ALL the water flow. Not much fun installing them when my middle finger on my right hand has a huge gouge out of it from an Amtrak sliding door and me trying to be a gentleman.
And speaking of train maladies, I picked up this "hack" while down in Portland, I blame on some old guy in another sleeper who was hacking up a storm. Meanwhile I'm taking acetaminophen and mucinex. I DO NOT want to be flying across country tomorrow hacking.
Speaking of flying tomorrow (to visit the Colonels) I got a lucky surprise when I went to check in on the Continental website… they upgraded me to first class. While not unusual on Alaska, I figured that if it took a half-an-hour conference call between United and Continental just to get me into priority seating with my United Premier card, I wasn't counting that I actually got onto their upgrade list (which is another perk of Premier status).
Spent the day packing, doing a couple of loads of laundry, ignoring the lawn mower, and preparing for dinner with Swanda. But alas, no dinner with Swanda, it's been a tough week for him, and I'm fine with having another quiet night at the house before the hubbub of travelling.
The real question is which bag(s) to take on this trip. Got two commuter jets to deal with. Pack a bag? Take some wine? Or maybe just rearrange the liquor cabinet. Sorry couldn't get a shot of the ice machine.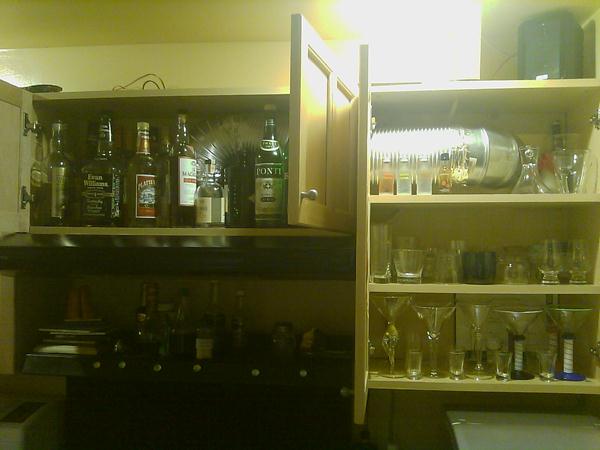 Actually, you can see the top of the ice machine to the right. Joe Fico, if you monitoring, those are the shot glasses from your wedding between the martini glasses. 6-burner Wolfe stove is underneath the liquor. Is that a wise idea?
Now if I could have gotten the office put back together. When is the next company coming?
[230.8]