Out of the house, UPS box in the mail, to the apartment and onto the Light Rail to the airport and all checked in and through security by 10:45 in the morning. Not bad considering there were only two lines at security open and one of the woman in front of me was TRULY clueless. Full size toothpaste, full size shampoo, full size conditioner. I'm guessed too cheap to check a bag and two clueless to know the rules. I should have chosen the line with the two small children in it. It might have been faster.
Nice to be up front for the long leg of the trip to South Carolina. A nice lunch, a few drinks, one in the pocket for late tonight when I check into the Ramada. Most of my hour plus layover was consumed by coming into the end of D concourse and walking the mile or so to the end of B concourse (including a little train ride). I would have been screwed with a short layover, at least I had time to pick up a BBQ Beef sandwich from Harlan's half way through the walk.
And speaking of the walk, I ran into this mock-up as I deplaned: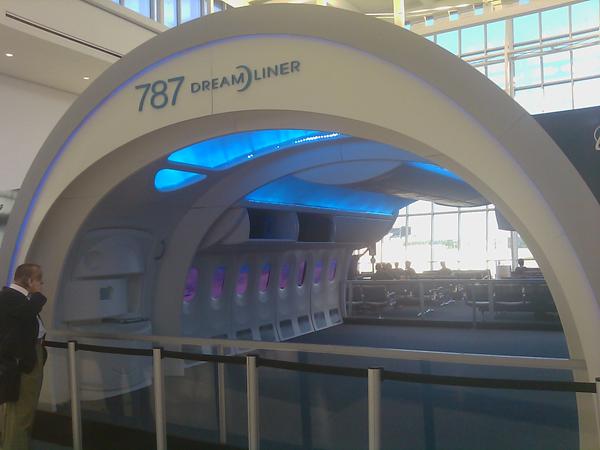 What this confirms to me is that the mock-up I was seated in a couple of weeks ago for the "how much pain can you deal with" test at Boeing. Looks like the 787 will be two-three-two seating.
But then when I go hunting around for economy mock-up pictures I get this:
Which is three-two-three seating. Who knows. I'm just glad that all my flights were running on time.
The Houston to Charleston leg was a regional jet, so no first class. Seat 1A, but no first class. After the drink carts came through (double scotch on the rocks and a Diet Coke on the side, pocketed one of the scotches for later) I munched my sandwich and continued reading Lee Child's 61 Hours. A great read for the airplane, I'll have to look for other titles of his.
It was midnight by the time I'd gotten my luggage, gotten a cab, gotten checked into the Ramada.
Fixed myself a double, checked email, read a little and went to bed.
[228.5]