No sure what's up with my gut today, other than it's not happy. All I want to do is lay around, and the gathering isn't the most conducive place to do that. I want my warm bed, to that's where I head around nine this morning.
By 1pm I've popped my head back above the covers and complete the last 22 Gathering Calls to print, fold, stuff and seal. Mick, oh Mick, where are you and when can I drop them by for you to post as I'll be out of town next week.
Called ClearWire about my internet connection bouncing up and down like some hooky on an old spring mattress, they say 24-hours and it will be fixed. If it's not stable tomorrow it's time to order high-speed DSL from Quest, now CenturyLink. Odd, on the hill I used to have DSL with Quest, and when I was on Lopez Island, I had it with Century, now maybe I'll have it with both! Hopefully they ended up with Century's business model and customer service. Considering the number of people here in South Park who are suffering the same fate I'm surprised they haven't gotten it together to fix a tower (12th and Barton in Georgetown) that has been flakey for the last 2.5 months or so.
Uncle Markie at the Breitenbush gathering circa 1984: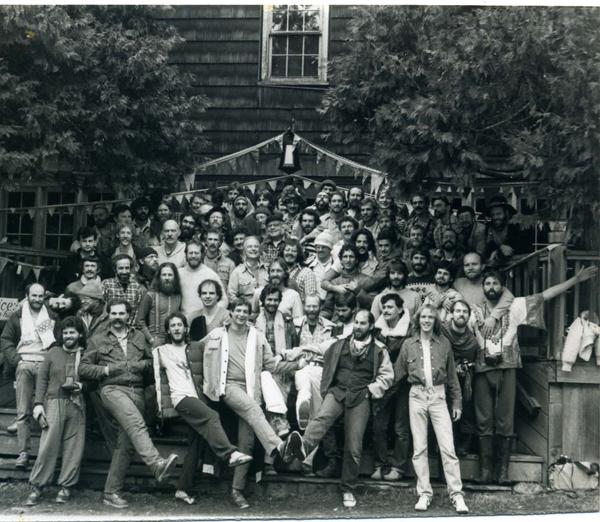 That would be me with the bandanas on, front row. Just to my left (in the photo touching my foot) would be MoonSong (maid, contractor, masseuse). 1984 would be the third winter gathering held at Breitenbush Hot Springs. I recognize a bunch of other people in the photo, though a handful or more have departed this plain.
All this nostalgia got me thinking about all my old black-white photos which I digitized some years back and now…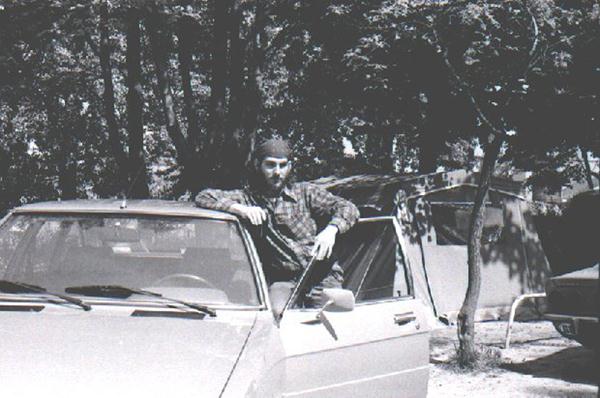 Circa 1979 somewhere between Paris and Orange in our leased cars, camping and studying through Europe — The Art History of Ancient Rome and Greece. In twelve rolls of black and white film, one shot of me. Lots of stone gods and goddesses.
Maybe tomorrow we will continue this trip down memory lane. But tonight I've thawed out a honking steak with a baked potato, that should stabilize my Delhi Belly. And speaking of Delhi, I should have digitized all my India and Nepal film before I sold my film scanner. Oh well.
[230.3]