Up at 4:30, even before my alarm. Considering how late I went to be, not pleasant.
By 6am I had the car parked at MasterPark, bags checked, through security and into the Board Room for my usual pre-trip nosh.
Got to the gate around 7 to find an offer I couldn't refuse: take a later flight and get a $300 voucher. By the time it was all said and done, that also included 2000 extra frequent flier miles, and $16 in food vouchers.
Back to the Board Room went I, to take a two hour nap on the couch. I probably could have used another hour, but there were oysters on the half shell calling me (and a bowl of clam chowder) at Anthonys — how nice to be able to have fresh oysters while waiting for your plane. And the view from the restaurant is stunning.
Lots of time to kill, so I've been trying to finish (after USA Today, the Seattle Times, and the Wall Street Journal) Graham Greene's The Quiet American. You could call it historical fiction (set in the early 50's in Vietnam while the French were fighting and the Americans just starting to meddle) or a story of romance and betrayal. It's twice (1958 and 2003) been made into movies should you want the easy version. My version is a British reprint from 1957 which interesting enough contains a broadsheet in the back for the upcoming book club offers for October 1957.
I think Jameson will enjoy it since there isn't a lot of nightlife in Tahoe unless you count the casinos.
Amazingly, I managed to snag another bulkhead aisle seat similar to the one I gave up on the morning flight. Add a couple of glasses of complimentary white wine (Horizon offers complimentary beer and wine on their flights) and even the severe choppiness of the approach to Reno didn't spoil the fun.
Bag number three off the carousel, used the time to do the paperwork for the rental car (a Chevy Aveo with 245 miles on it, and no plates, just a sticker in the front window).
One stop at WinCo for food and wine, a call to Jameson to grab whiskey, and by 7pm I was checking into the WorldMark Lake Tahoe, Jameson having arrived a few minutes before me.
Dinner was those little lamb t-bones, grilled asparagus, salad, roasted garlic bread, and a 2008 Bogle Petite Syrah.
After dinner entertainment, the hot tub.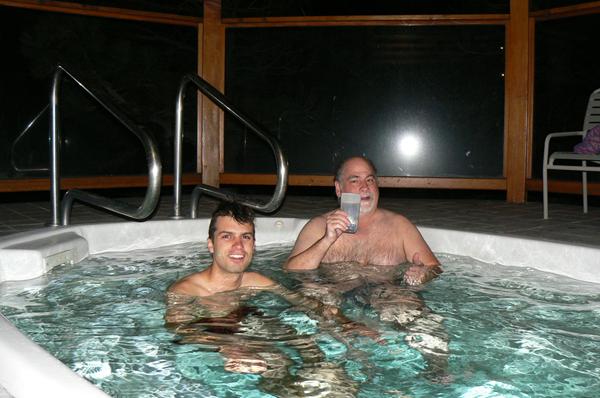 Good thing I brought two suits! And a good thing there was a glass surround as the winds are peaking at 35mph which made the drive up the mountain in a tiny econo box (with crank windows) interesting.
Late into the night talking, I miss being in the same city as Jameson but I'm not ready to move to Tahoe where snow flurries are expected tomorrow (June 1st).
[230.7]