Woke up to a lovely hack… not a cold, but I think minorly dripping sinuses and slowing lodging in my lungs. The morning phone calls sounded like I was a whiskey and cigarette laced night club singer and I can only claim the whiskey soaked part.
Those calls? Things like ordering a new dryer handle that I managed to snap off… $40 plus $12 shipping which seems a little expensive to me, but because the distributor is in Oregon it will be here tomorrow. The call I forgot to make, to ClearWire to disconnect service. Like all weasel services, it's impossible to cancel online, so that's a call for tomorrow.
Ran some errands today — adding to Swanda's collection of Schilling Brand products, and grabbing Bol Kolgi at Shilla while BMW Seattle was removing all the bugs from the weekend of driving with one of their free "courtesy washes" for people who by cars from them, which apparently includes my 2006 Mazda Miata MX-5.
All day I've been listening to this new album/cd that I ordered pre-release because of an NPR segment — was pre-release at $9.99, with a price guarantee — and when it released on May 31st it had dropped a buck, so I have an Amazon credit. I've been listening to it (almost on repeat) all day. My love of the ukulele combined with the collection of "broke my heart" songs has me entranced.
The album starts with a cover of the Pearl Jam song "Can't Keep" and ends with a cover of a Momma's and Papa's song "Dream a Little Dream", and is mostly original work in between. Clicking on the photo will take you to the Amazon page where you can listen to various tracks or buy the album, which has now gone up to like $11.99. I guess that pre-order stuff really works.
By the afternoon I'm working on the registrations for the Faerie Gathering this summer, working on database designs, the master excel spreadsheets, figuring out how to keep multiple files updated and trying to add photos. Luckily I only had to add the first three people three times.
But duty calls. My friend MB has a son graduating from high school tonight (SOTA in Tacoma):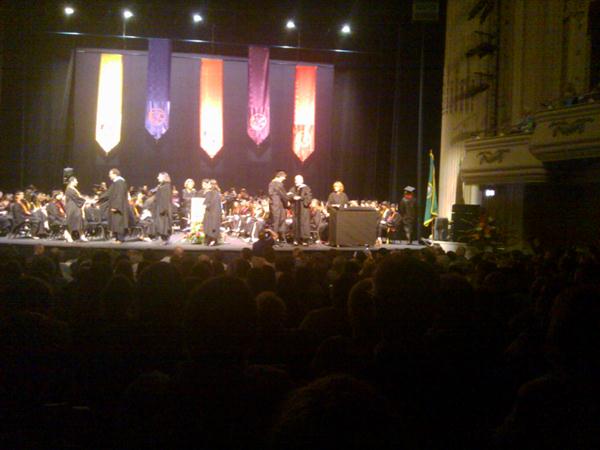 I actually got a crappy phone camera (remembered flask, forgot camera) of him receiving his diploma. What followed was a reception (after a cluster-fuck in the lobby) at the Foss Waterway Seaport Museum (cookies, punch, not enough bathrooms) and then onto The Rock, a pizza, pasta, beer, drinks place that was so dead on a Monday that 20 people could show up and they were happy (and no 18% mandatory large party service charge). Our server BETH gets a big shout-out for dealing with a huge last minute late dinner party.
MB's Mel was at the wheel on the way home. One glass of wine, the kids (underage to drink) drive. Good training. I had a bottle of Yakima red in the trunk of my car that we opened when we got home… and for the first time in years… it was corked. And I love this winery so I'm not saying the name, but I did get it on closeout at Grocery Outlet so that might have something to do with it. It was a nice lesson for Mel to actually be able to compare a corked wine to a decent wine (yes, 16-year-olds need training, too).
But it was midnight by the time I drove back from Tacoma. Late for me. But at least I sold another of my old laptops. Delivery next week.
[228.6]