Apparently several people thought my post yesterday was a little on the cranky side.
Probably. No one can be happy every day and be sane.
I spent too many un-billable hours working on Cabin Assignments, but at least the cabin layout sheet is now useable and linkable to the main mailing database.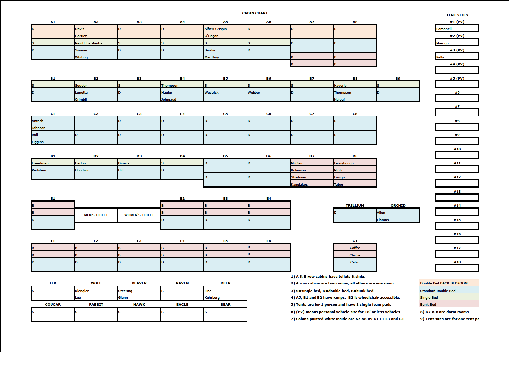 As you can see, we have about 50 slots filled. From here on out it should be a little time each day rather than a couple of hour slog. If you look close, you might actually be able to see some of the assignments. And I did have an early evening conversation about possible future billable hours so that is good.
I also found this other video from Tuesday's blowing session which got me excited for tomorrow's session:
Ran by the apartment to pick up packages. A Blu-ray player that I picked up for less than $60 that fits in the stack of equipment (which I took a crappy picture of not worth posting) and a six-pack of wine that is pictured below. Keep in mind that those are 50ML bottles, yeah, that's the size of an airline bottle (though on the airline they give you 150ML bottles of wine).
It comes from a place in California that bottles up all these minis from small vineyards as "tasters" to get you to buy a full size bottle. It was basically $16.50 as they were having a half-off sale with free shipping. http://www.tastingroom.com is the place. Not sure I'd have done it if it was full price, but can't wait to taste them (after I show the presentation to Jimmy).
A quiet dinner at home — breaded sauteed cod chunks, a little salad, a bagel — yeah, working through the refrigerator getting ready for the Vancouver Trip.
To bed early, take a sleeping pill, wake up early for blowing.
[228.3]