DancingBear was over just after breakfast to pick up about $10K worth of checks and PayPal transfers. Well, that, and a Bloody Mary since it's pride weekend, or since I had some mix handy.
By the time we were done, there was a change in my birthday celebration in September. Just add two days to the beginning of my trip, cancel Amtrak, add $50, and sail from Seattle to Vancouver to catch a different cruise ship to Los Angeles. Oh, and we have to figure out where to stay in Vancouver, but that shouldn't be a problem.
With the screw-up on paying for the longer cruise, DB also dropped off a check for his portion of Part Two — Cruise To Nowhere 2011. I added a trip to the Eastside to drop off the check, drop off mail at the post office, grab some taco-truck tacos, and gutted the Safeway Clearance Sale rack for dinner tonight, and many other dinners. Even found some more pork ribs.
In the afternoon reading of the Wall Street Journal (instead of weed-eating the borders of the lawn) I came across this great photo: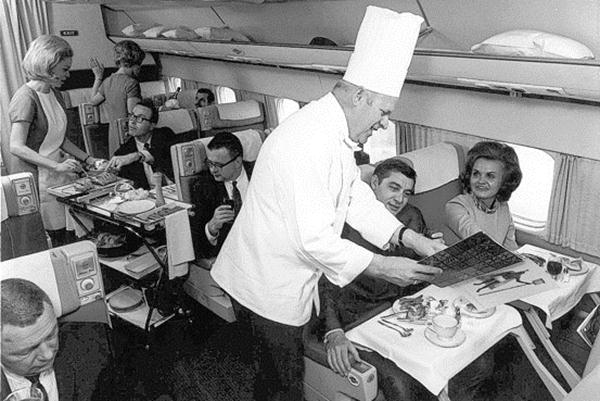 First Class service on United circa 1970. Here is what I wrote when I forwarded the link to friends:
Ah yes, I remember when they used to roll the cart down the aisle offering "Mr. Souder, would you like your Chateaubriand sliced (seat-side) from the middle where it is medium rare, or from the end where it's medium… this, of course, about an hour after the Beluga caviar and Dom Pérignon course.
Here is the link to the entire Wall Street Journal article:
http://online.wsj.com/article/SB10001424052702303936704576397582468372202.html
Just a little steak and salad for dinner before spending the evening filling the 400 DVD player with something other than G-NC17 DVDs.
And I actually got it done. Though after printing it out I have some blanks to fill in.
[229.5]