Out of the house at 8:30am and into morning rush hour traffic. I can't imagine doing that drive every morning. It didn't start to normalize until past the University District. I didn't make it to Camano Island until 10am.
By eleven the studio has been rearranged to move from a one-person blowing operation to a tag-team of blower and glory hole bitch. In the four hours that we blew we were able to make two of the tall double martini glasses, two of a single martini glasses, and two cordial glass prototypes. At three, SurfBetty's ex-wife and still good friend took over for another couple of hours (this after she spent a couple of hours mowing the acre and a half of lawn).
Being relieved of my blowing duties, I moved to the kitchen to prep dinner while they continued to work.
Here is a wonderful shot of one of the whiskey glasses SurfBetty blew with another green assistant a couple of weeks ago: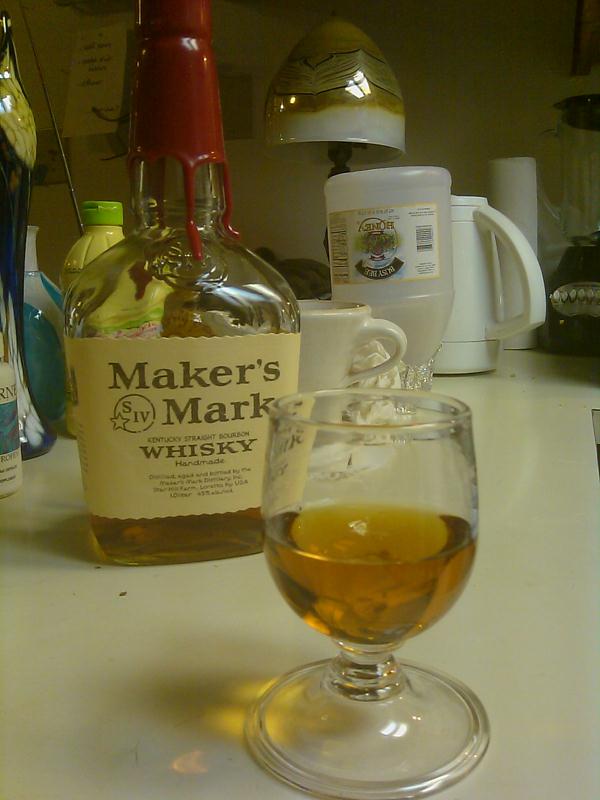 Dinner was a pork loin roast with Caribbean seasonings, steamed asparagus, a green salad, and wine for SurfBetty and myself, and grape juice for Joanie.
The plan for tomorrow is that SurfBetty will get up early and blow, I'll get up when I feel, and we'll work on a new project for a couple of hours before he goes back to blowing for a bit before needing to clean up the shop, clean up the house, clean up the lawn trimmings as the studio owner returns tomorrow night.
The new project? One of the piece and SurfBetty and Joanie blew over the weekend was a superb screw-up. Putting the foot on a wine goblet, it broke off the blowing stick but didn't hit the ground, so they grabbed it and put it in the annealler. What I saw reminded me of a shaman's rattle, or talisman there being just enough of a hole to insert dried beans and then seal the hole. So, tomorrow, that's what we are going to try and recreate on purpose.
[228.5]