I was up a little after 8, and into the studio by 9 after a piece of toast. Today's goals — talismans for the Faerie Gatherings.
The original plan for the first talisman was to be a swirled globe wrapped in a cross-hatch pattern of orange and black threads. It was an ambitious plan and one that we abandoned after the second (and successful) attempt to put the orange bands on. No black band. It just too crazy trying to balance the rods, the heating, the everything. At least it came off the pipe easily in the end.
Talisman number two was just the "standard" twisted globe, chunk of glass, steam, chunk of glass, and another blown section with two sealed compartments and a glass tail. The top bowl has a hole at the top which will be cleaned up with a Dremel, filled with beans and sealed (cork? Clear silicon?).
Talisman number three was the same as number two, but no swirl on the upper globe, and a color wrap of orange near the top of the stem and a wrap of black around the bottle of the stem. Hopefully tomorrow or the next day I'll have pictures to show off.
Left the studio a little before noon with five more glasses packed in the car: two single martini glasses, two double martini glasses and a beer mug.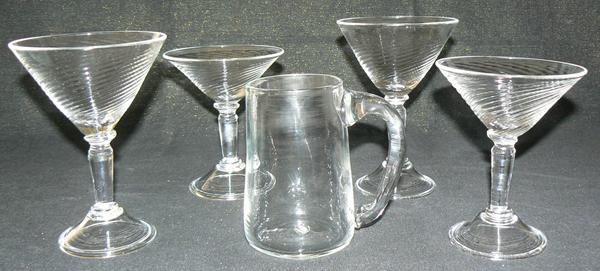 Needless to say, these aren't the final publicity shots!
The plan for dinner had been me cooking over at Swanda's place, but with the weather being warm enough, dinner al fresco! Not exactly sunny, but overcast and warm. Apple cinnamon marinated pork roast, roasted asparagus and a big salad, and a last minute guest of Wonderful (who I bought my house from years ago).
A wonderful dinner and what a welcome home from two days of blowing.
Last random thought: coming back from Canada with Rich last week, I saw my old motorhome (Bob) headed in the opposite direction pulling a car. WOW. Though I can't be completely sure, there aren't that many Bluebird Wanderlodges from that era with that paint job left still on the road. It was good to see it, but I'm so glad it's somebody else's problem now.
[? ? ? ]