Today was cleaning day with Moonsong. Slowly but surely he is scrapping 50 years of accumulated burnt on crap off my Wolfe Range. Not my burned on crap, the previous owners burned on crap.
After a year of nagging from MoonSong I finally ordered replacement filters for my vacuum cleaning… the set of four set me back almost $50 with shipping. Good thing I only need them every 10 years (should probably do them every couple of years.
Another purchase was for car camping. I would have stayed longer at the Longhouse Gathering this May, and probably longer at American Ridge last year had I one of these puppies: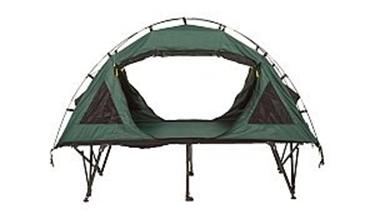 I was online looking for camping cots when this popped up on Amazon. I'd really like the wider, longer version of this, but it has a different folding leg mechanism which doesn't break down small enough for my trunk. This one clocks in at 7″x7″x39″ when packed in its bag, or you can just use it as a cot. And yes, you can click on the tent and go right to Amazon and order one for yourself.
Here's the description:
Versatile Kamp – Rite Collapsible Combo Tent Cot spells elevated comfort! Fully assembled, it's a Tent and comfy Cot in one for full "above 'n below" protection from weather and wet ground. Don't need the cot? Simply unzip the tent and use it separately. Using somebody else's tent? Of course the cot section works by itself too. Smart! More: Sets up in about 3 minutes, however you use it; Heavy-duty powder-coated steel frame; Rugged 210D nylon tent material, with no-see-um mesh on all windows and entries; Fully taped seams and included rain fly make sure you stay dry; Folds down to just 39 x 7 x 7″; Bed size is a roomy 80 x 28″; Triangular windows can be closed while inside the tent; Superior-quality clips, buckles, and corrosion-resistant buckles; Includes ground pegs, rain fly, and carry bag; Fully-assembled size is 80 x 28 x 42″h. Weighs 15 lbs. 300 lb. weight limit.

And in TRULY INTERESTING NEWS my former house a.k.a. "The Church on Lopez" is back on the market after the current owners truly pimped the place out. New roof with rigid insulation, skylights, hot tub/spa, and all for only $100K more than I sold it for, and I'm guessing they spent most of that in the upgrades. Check out the pictures:

http://www.windermere.com/index.cfm?fuseaction=listing.listingDetailUpdated&listingID=130115991&paginate=true

Tonight's dinner guest is Bliss (as his last name) for a roast chicken dinner with broccoli and some fresh bread. And, of course, we had to do more product testing on the martini glasses before dinner.

[229.1]