Just another day of screwing around on the ranch followed by an impromptu dinner invitation from Swanda. It a great deal: I bring the protein; he provides the salad and booze. And I pick up my accumulated packages while I'm at the apartment. Of the three packages awaiting me, one was for Swanda, one was for Hummingbird (from Canada who also uses us as a mail drop) and the one for me wasn't the one I was expecting, so it was unexpected, as you would say. A t-shirt from the Oregon Department of Kick Ass from their last Kickstarter campaign and a Ring sweatshirt that I'm guessing belonged to her deceased father as we are/were about the same build.
Dinner was simple peasant fare of little lamb chops and a lot of cole slaw, washed down with a little whiskey for me, and not sure what Swanda was drinking (could have been water!).
It was an early meal and an early departure, which was good since SurfBetty showed up to drop off the talisman that we blew on Tuesday morning and picked up all the sample martini glasses for sorting, grading, final punte remains to grind off, feet (opposite of the bowl) signing and separating the firsts and the seconds (for pricing).
The first picture is of one of the talisman (filled with black beans to also make it a ceremonial rattle) and this semi-hand-blown oversized Cuervo 1800 Tequila margarita glass that I found in a thrift shop on my way home from blowing the talisman. I find it humorous since the wraps we were trying to apply are almost exactly the same colors as the ones on the margarita glass. It's a cheap thank-you present for SurfBetty for the four days of blowing.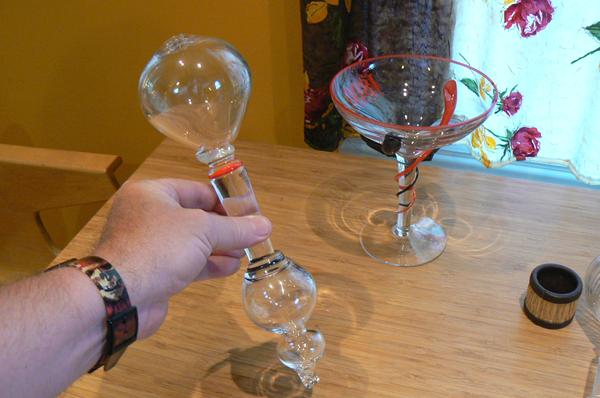 And our second and final shot of the day is of the talisman themselves shown in the order that they were blown. The first with its intense orange wrap over the swirled globe and filled with black beans, the second a plain swirled globe (the unopened martini bowl) filled with un-popped organic corn kernels, and the third (also filled with black beans) with a plain clear globe at the top and single bands of orange and black on either ends of the stem.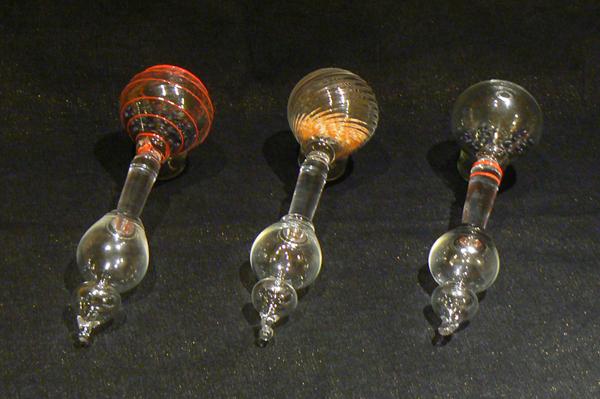 They are so gorgeous that now I have to make presentation boxes for them. And SurfBetty still has to swing buy and do a bit of grinding on the top and I need to find a better seal than a piece of scotch tape (cork? rubber? silicone?).
Just another fun-filled day at the ranch.
[227.6]