At Chinook Pass: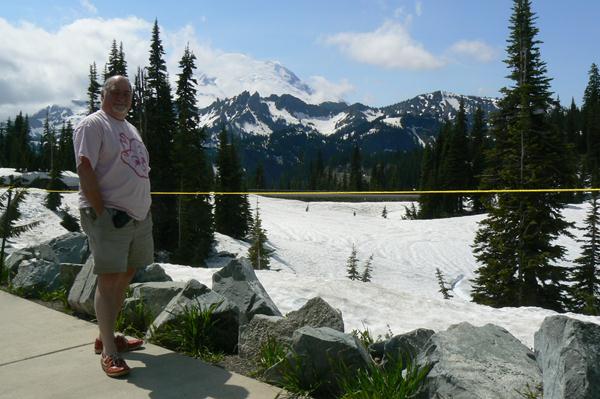 That would be a partially obscured Mount Rainier (Mount Tahoma to the 1st nation's folks) and the yellow cord to keep you from sliding into the mostly frozen Tipsoo Lake. The lower parking lot and bathrooms were still 5 foot snow right to the outhouses (which are in the middle of the parking lot).
Here is a chunk of the Wikipedia description of the pass:
The pass provides the east entrance to Mount Rainier National Park, and carries State Route 410 between the towns of Enumclaw and Naches. Because of the high elevation, Chinook Pass is usually closed in November due to very heavy snow and significant avalanche danger. It usually opens in mid May and is not uncommon to have a snow depth at the summit of up to 15-feet.
As part of the All-American Road program, Route 410 through Chinook Pass has been designated by the U.S. government as the Chinook Scenic Byway. It is considered to be one of the most beautiful routes in the United States. Because the summit is above the tree line, there are many places to park along the road to view the scenery. As commercial vehicles are not allowed through the National Park section of State Route 410, this route is also favored by summer tourism.
For driving routes, for me, it's right behind the Going-To-The-Sun Road in Glacier National Park.
Left the house around 1 and got to American Ridge around 3:30 with all the stops along the way (gas, car wash, liquor, groceries, ice). Got the camp site set up in time for cocktail hour: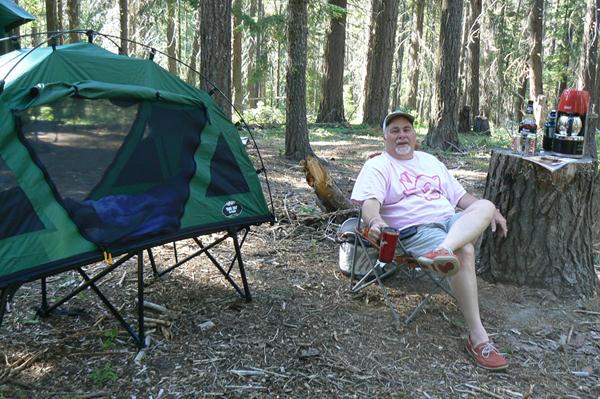 Tent-Cot to the left. Me in the center (with cocktail). Bar (both whiskey and coffee) on stump to the right. Roughing it in the woods with a propane powered 10-cup coffee maker.
Tonight's group meal was a spaghetti Bolognese for 15 people. So much for Atkins — and anything resembling meat in the sauce.
Like I said. Roughing it.
[226.2]