I had an interesting conversation with Magnetrocia about when does a vacation turn into boredom. Apparently for me at the same time the ice runs out and I'm seriously in need of a shower. Each morning here at American Ridge after the morning pot of coffee, I've cleaned out the filter and run a small batch of plain water through the coffee maker to get a nice amount of HOT water for a shave. My pits may stink (though I use some of the hot water on those as well), but at least I'm clean shaven — it's ALMOST like a shower.
I slowly packed up camp while reading New Yorker number two (of what feels like twenty — Swanda was behind for several months), chatting with folks, gnawing on some beef jerky. I actually managed (unlike on the way down) to get all but the cooler into the trunk.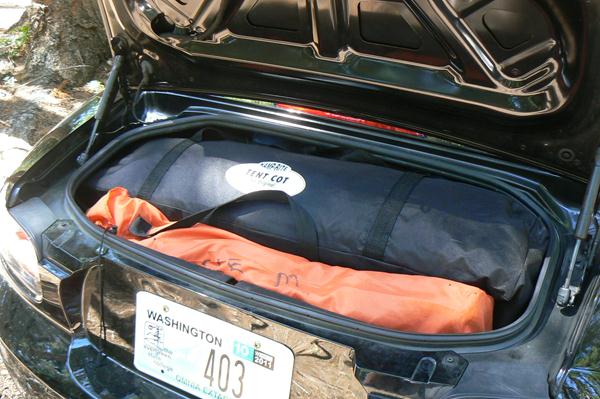 Contents:
Small duffle bag of clothes, camera, magazines, liquor
Sleeping bag
Air-filled sleeping pad
Talisman in box
Coffee-maker, propane, and adapter.
Shoes
Coffee Mug
Tent-cot
Camp chair.
Not bad for the trunk of a Mazda Miata MX-5. Thanks Dad for showing me how to pack when we did all those 3-week family camping trips as kids.
Got out of camp around 1pm and got some more great "tourist shots" on the way home.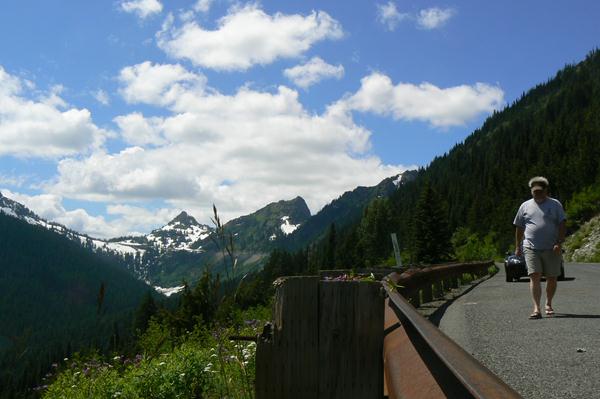 Next time maybe I should pick up the pace when the timer is on! This is on Highway 410 headed west up to the Chinook Pass. I made a U-Turn so fast to park I totally drenched the passenger side floor with melted water from the cooler. Seems the zipper leaks under pressure.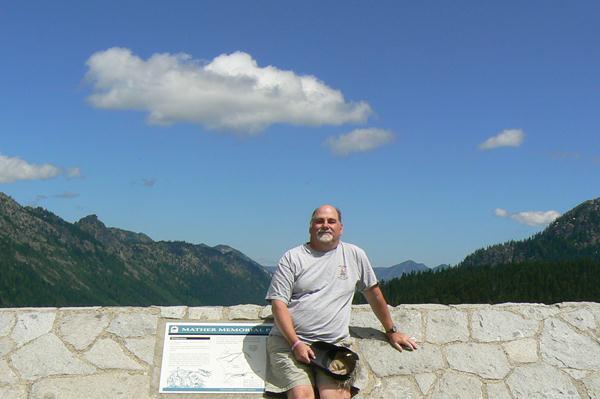 Looking east from Chinook pass down through the valley to Naches and Yakima. And another obscured shot of Mt. Rainier (the best shots of Mt. Rainier are from window seats on planes landing at Sea-Tac):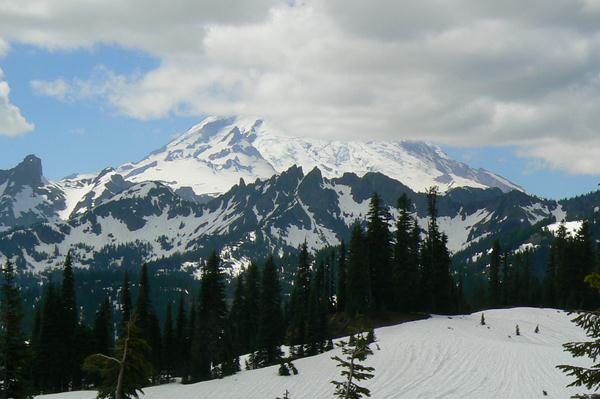 And back home by 4pm to go back to working on The Summer Gathering (after a nice steak and salad dinner).
[? ? ?]