Drop by number one: Me
Reason: Dropped about 20# of frozen meat to Missy who lives on the corner. With her recent rounds of surgery she hasn't been working. It's easy to grow vegetables, it's not so easy to grow veal chops.
Drop by number twp: Dancing Bear
Reason: To go through all the gathering registrations and make a list of who's doing what (talent, auction, clean-up, love lounge, etc)
Drop by number three: Jill
Reason: To drop of a seriously cute salt and pepper set. Actually, they are both pepper grinders, I just put Kosher salt in one of them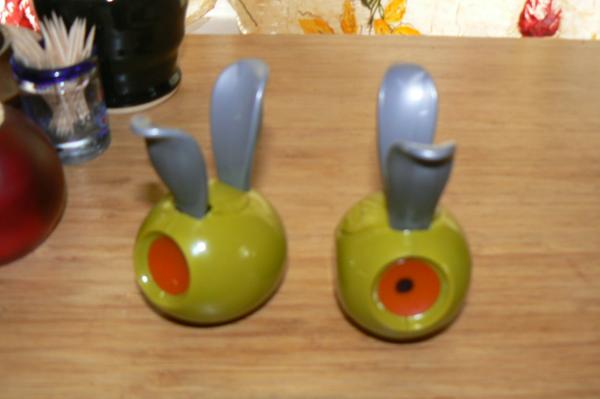 I added a black dot to the one with pepper in it. She found them on some sale rack and instantly thought of me. And they are MAGNETIC which means they will stick to the range hood.
All I had for Jill was a handful of letterpress advertising slugs.
After all the company was on the road, so was I with a run to the Eastside to pop a check in the bank and grab some bottles of salad dressing at Trader Joe's — my basket of dressing was down to three partial bottles and the basket holds six.
Quiet dinner at home, just me, some pork cutlets, a salad, and a couple of glasses of wine. It seems that I'm moving back towards an Atkins style diet — trying to cut out carbs, and still taking the Alli to stop some of the fat absorption. Seems like most people I know are headed that way, some because of diabetes, some just to shed pounds. Protein and salad, my kind of dinner.
[225.9]