With the cabin to myself it was easy to sleep in past breakfast and make a pot of coffee at my leisure. Of course I should have done it on the front steps as I managed to momentarily set off the CO2/Smoke Alarm in the cabin. Being in the trees, the cabins that is, also means not a lot of direct sunlight.
Pre-lunch of cheese, lunch meats and marinated olives and mushrooms led to a lunch of a large plate of salad. A low carb diet at Breitenbush is a challenge — which my guess is that most of my meals will be pre-meals followed by salad.
Around two I wandered up to the parking lot to await the arrival of Dancing Bear with all of the photo directories stuffed into their envelopes with the bamboo towelettes. By the time he arrived several hours late at 4pm, I'd already checked in a dozen or so people, which would have been much easier with the packets arranged in alpha order. Oh well. Basically my job is done as far as organizing the gathering is concerned. Dancing Bear will be handling who does what for the fashion/auction/talent shows planned. My job is to sit and relax.
Sorry the photo is so washed out. I took this as a still picture from my tiny video camera, tried it with my phone as well, but it was as washed out as well. So much for leaving the decent camera a home.
Once Dancing Bear was set up at the gate I was able to get back to put the cabin together. I had to move out of B3 at 1pm and wasn't allowed into B2 where I'm staying for the gathering until 4, leaving my pile of bags, blankets, coolers, electronics piled between the cabins.
Here is a shot of the cabin all set up: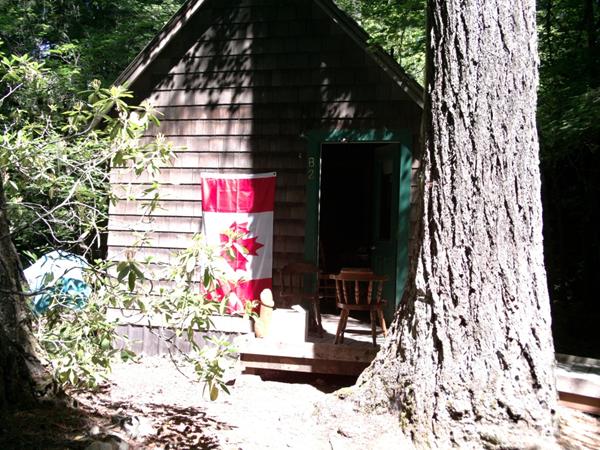 With Mark and Onyx cancelling at the last minute, my new cabin mates are Hummingbird and BamBam. They arrived around 5 just as I was finished setting up.
Dinner was the same routine of pre-dinner meats and cheeses, but with more of a cocktail party setting. It seems that I have a reputation for breaking the Breitenbush rules.
More sticks and twigs (as they say) in the buffet line — I just headed straight for the salad.
After dinner was Breitenbush 101 (don't plug in your curling iron, you'll bring the system down), followed by Faerie 101 (what's this all about) and finally the Opening Ritual, which I missed as it was a) really short and b) was waylaid by someone I hadn't seen in a couple of years.
I'm already starting to get tired of all the "thank you for all your hard work" comments, and it's only the first day.
[? ? ?]