A full day in the shop with Jimmie showing up at 11:30 after a REALLY long bus ride. It's not convenient to get from the Central District to South Park.
Today's word of the day is "jig" (courtesy of Wikipedia):
In metalworking and woodworking, a jig is a type of tool used to control the location and/or motion of another tool. A jig's primary purpose is to provide repeatability, accuracy, and interchangeability in the manufacturing of products.[1] A jig is often confused with a fixture; a fixture holds the work in a fixed location. A device that does both functions (holding the work and guiding a tool) is called a jig.[citation needed]

An example of a jig is when a key is duplicated, the original is used as a jig so the new key can have the same path as the old one. Since the advent of automation and computer numerical controlled (CNC) machines, jigs are often not required because the tool path is digitally programmed and stored in memory. Jigs may be made for reforming plastics.

Jigs or templates have been known long before the industrial age. There are many types of jigs, and each one is custom-tailored to do a specific job. Many jigs are created because there is a necessity to do so by the tradesmen. Some are to increase productivity, to do repetitious activities and to do a job more precisely.

Some types of jigs are also called templates or guides. Jigs include machining jigs, woodworking jigs (e.g. tapering jig), welders' jigs, jewelers' jigs, and many others.

Here is one of the now half dozen plus "jigs" that Jimmie and I have made to make sure all the pieces we are making end of being the same dimensions: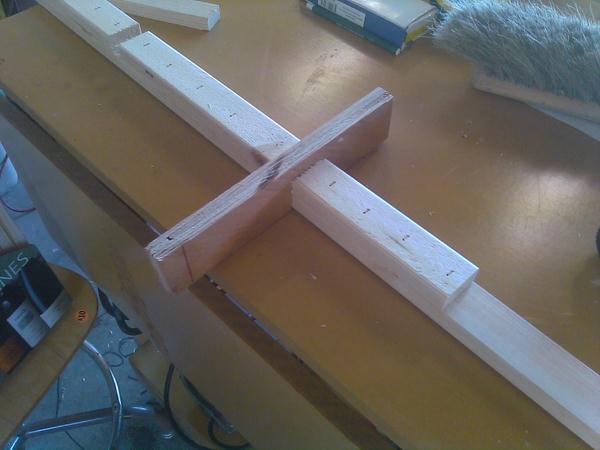 This is a spacer used for making sure that all the shelves line up. Thank the goddesses that I own a compressor and a brad nail gun, otherwise my wrist would be killing me!
And here is a pile of upright members (that sounds DIRTY!):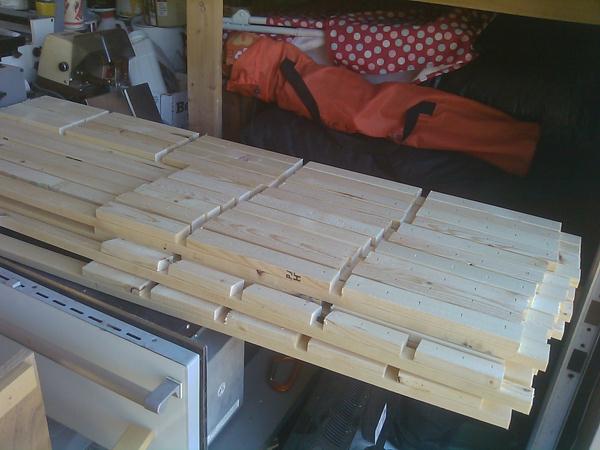 The stack of uprights is hanging out on top of a single drawer Thermador warming oven I'm hoping to install over the dishwasher in the show (for holding warm appetizers).
And one of my favorite photos — how to hold all those small bits of wood before they are assembled… repurposed wine holders from Safeway: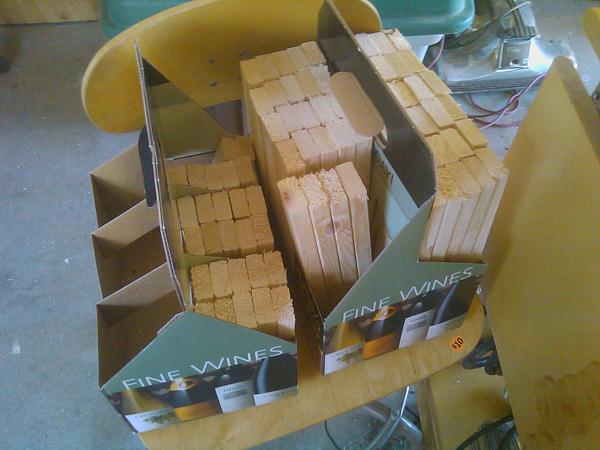 And a stack of drilled middle shelves: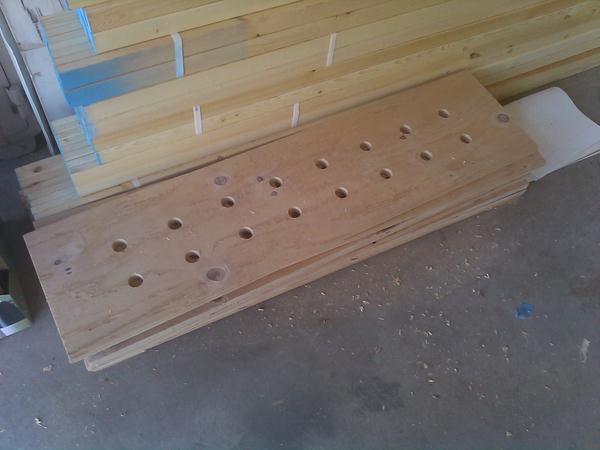 Jimmie didn't get all of those drilled — it's a lot of shoulder power that needs to be spread among days.
Dinner tonight was a $25 Restaurants.Com off coupon (on $35 bill with mandatory 18% tip, really meaning really you need to run up a $28-29 bill, which is NO problem when order Sashimi). Daimonjisushi is the name of the place, just over the bridge in the Georgetown neighborhood of Seattle. Fast service, friendly staff, good food — not really cheap ($4.50 seaweed salad, $19.95 sashimi plate, $5.50 tempura unagi, $15 split of cold sake [they were out of the Nigori at $11) yielded a bill of $33 AFTER the coupon. Damn.
[218.8]