The flight isn't until 6pm, and even though it's out of Bellingham (2 hours north), it still means there is time in the morning for more sanding and sealing. I'm looking forward to 3 days to let my carpal tunnel built-up subside.
Left a little early to hang out with SurfBetty for half an hour before continuing onto the airport which is about 10 minutes north of him. He was working on getting the photo studio set up so he can photograph all his new glassware so that then I can put together a website to sell it all. Finally, a paying gig!
While at SurfBetty's place I got THREE text messages from Alaska Airlines. My 6pm flight is now at 6:47pm, my 6pm flight is now at 7:45pm, and my 6pm flight is now at 6:45pm. The flight was an hour and 20 minutes late getting in from Las Vegas, but we did actually get out of their at 6:45. Before I go further, check out the new Bellingham Airport Terminal: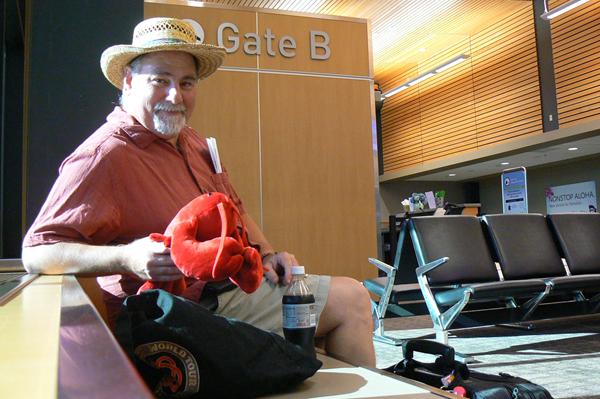 Really nice, and free wi-fi. And there is Mr. Lobster having a Diet Coke while he waits to load.
He's from Boston, the plane says Alaska, and we are headed to Hawaii, in STYLE.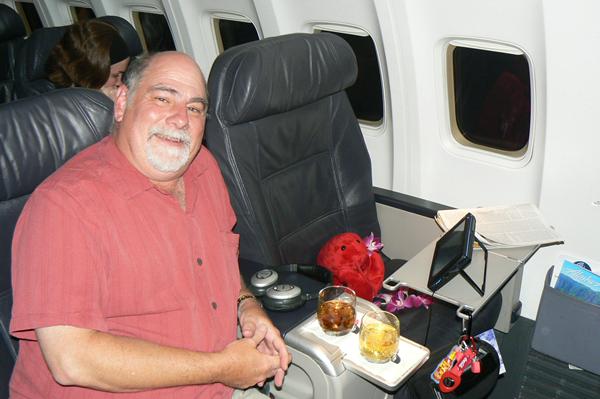 Yes, Mr. Lobster had a First Class seat to himself for the whole trip. I do think he may be getting spoiled. Actually the other two bulkhead seats were open in first class as well, something I've never seen flying out of Seattle (and the reason I flew out of Bellingham, for the free upgrade, and, of course, the miles).
It was after eleven (plane landed on time at 9:20, having made up the 45 minute delay) by the time the turtle-like hotel shuttle got me to the Royal Kuhio to pick up the key, walk to the Fairway Villa, dump my bags and head out for groceries. Talk about a convenient location, the Food Pantry (the largest grocery store in Waikiki) is at the end of the block from my condo. Score.
Picked up breakfast stuff and some poke to nibble on with my nightcap.
Checked email (phone tethered to computer, no free wi-fi), logged in to Alaska Airlines and found I've been upgraded for the return (red-eye) trip on Thursday. Same seat, but less food. No full dinner as they are expecting you sleep, and with the selection on the DigiPlayer, that might we what I do. On the way over watched two movies: Win Win, and some middle-kid coming of age story, Adventures of a Geekie Kid or some such thing.
Watched the Late Late Show and headed to bed.
[222.1]