Checkout time is 11am, which means I have to leave by 10:45 to walk over to check out at the Royal Kuhio, a minor inconvenience, but still 15 minutes less of sleep. Oh, and the monthly bug spray team is coming through sometime after 9, luckily I'd finished cooking before they showed up.
Got checked out after a 15 minute computer glitch (3rd in line), but as I was the last person to check out, they were able to waive their policy of doing on-line check-ins for airlines only between 5-7pm, and issue me a boarding pass at 11:30am, no wonder they got all 5's on the comment card for the office staff.
Next stop is Hilo Hatties to see if we can find Mr. L some more clothes. Unfortunately, all he got was a puka shell necklace — looks good doesn't it?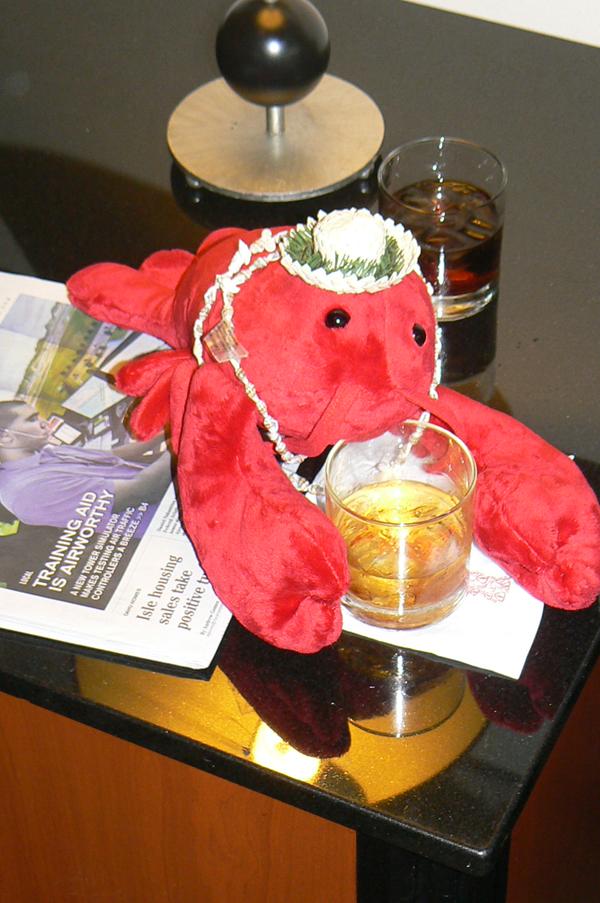 After the "bust" at Hilo Hattie's I tried to find the bus stop for the city bus to the airport, failed, and just went to Sam Choy's place for a light lunch of a crap, scallop, snow crab, clam, and mussel steamed stew with a load of iced tea.
Walked back to Hilo Hattie's and caught the bus back in the direction of Waikiki, but had them dump me at the Ala Moana Mall where I knew the 19 and 20 busses ($2.50) stop. It wasn't until I was back near Hilo Hattie's that I realized the bus stop nearest was on an adjoining street. A lesson. Men, ASK where stuff is. Not that I didn't have time as my flight isn't until 10:35pm or something like that.
Got to the airport about 3pm — which is crazy early for a 10:30pm flight, but HNL isn't a bad airport to hang out in, especially if you have access to the Delta Sky Club (formerly known as the Crown Room before their merger with Northwest). Snacks, drinks, and decent airport food (outside the club). I actually had a really good prime rib dinner with three sides (doing the Atkins thing my sides were two portions of green salad and one of cole slaw though the mac salad looked good and the mashed potatoes and gravy even better) for $12.50 (that was the 6oz. serving of the Prime Rib).
Mr. L even got in a little shopping while we were at the airport: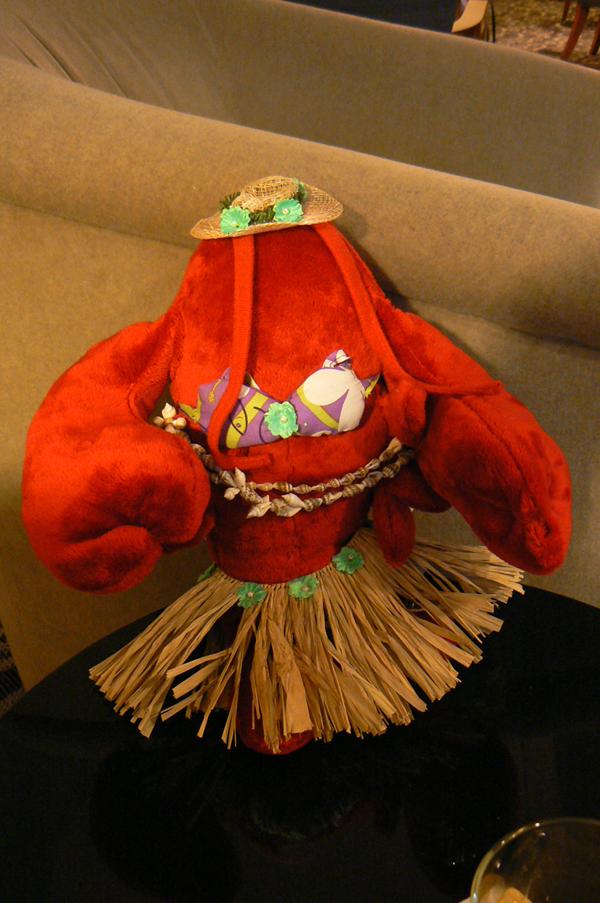 I didn't realize he was a cross dresser. But that is none of my business.
There will be some more details of the flight home on tomorrow's blog, but I might as well get this one posted and head off to the gate (after another cocktail).
[? ? ?]