The flight was a little more full (only 1 free seat after they started selling them off for $150), so Señor Lobster decided to book himself into the "sleeper" compartment for the red-eye home: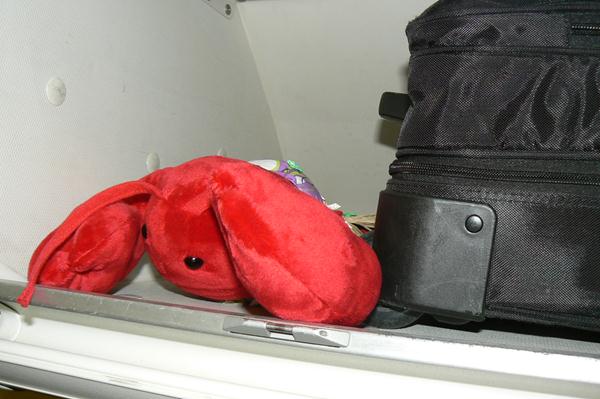 At least he got some sleep. Me, I was up reading, watching junk TV, and marveling at the "old skool stew"… I kid you not. I thought I was on a preview of the new network TV show PanAm scheduled to start in September. 38 double D's, 24 inch waist, and blond teased hair that would make any lady from Texas proud. It also looked like her Alaska uniform sweater was designed for a junior high school girl it was so tight. I didn't think polyester stretched that far. Or maybe it's closer to the new The Playboy Club series also slated for this fall.
And when I say "old skool", it was two minis of Glenlivet (still in the bottle) with each round, coming so fast I started stuffing spares in my pocket. At the end of the flight she slipped me TWO MORE. Geez, I left the plane with a total of six x 50ml, which is basically a pint of single malt. Just remember, those are OK to put in your quart-size liquids container for carryon, but the airlines tend to get nasty when you pull them out mid-flight.
Having parked so close to the terminal, it was a short walk and $29 for three days parking and I was on the road… to the closest rest area to finally get a little sleep. If only Senor Lobster could drive!
Home at 11am and to bed for another couple of hours and then back to the grind.
More computer work, more wood work, more of everything.
At least I didn't gain weight on the trip.
[221.1]