Thank goodness the phone was still in my holster and on the chair by my bed rather than on the charger because at 7:15am I got a call from Dunn Lumber saying they were on their way.
He had to call again to say he was in the alley — same guy who did the delivery a couple of weeks ago. As for me, it was cup number two of coffee.
The delivery? A load of paintable plywood and MDF (medium density fiberboard). Use? The main center racking and the cash wrap (i.e., where the cash register goes).
At the end of the day?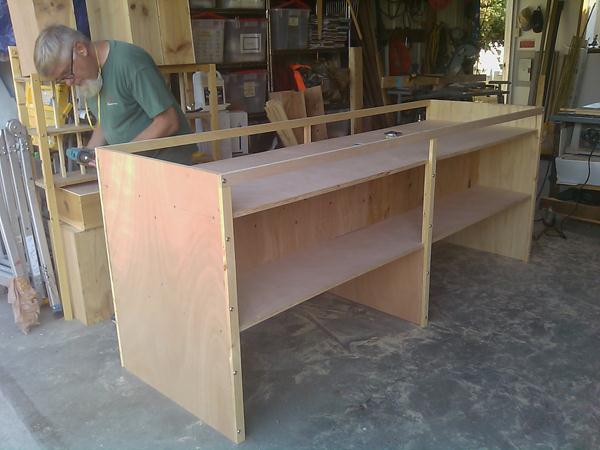 This would be the center racking with case storage below, but before the final trim is on, that, and the center rail, the class, a bunch of sanding and sealing.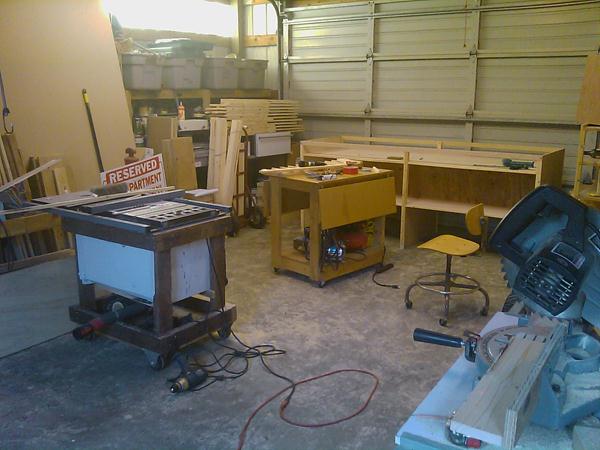 And damn, the floor is dirty again. It does look like a serious production shop though from this photo.
Took Jimmy home (he came in on the bus) with a load up uprights for him to Bennite next week while I'm on the road. I got a lovely smoked chicken dinner out of the deal, and a nice tasting of a "baryard tones" Dindons wine.
Long day on my feet, can't believe I'm still awake.
[219.8]