The grey skies have returned, winter is upon us once again. I was hoping to have the storefront repainted while it was still sunny and warm, but alas, that might not happen.
A couple of hours pre- and post-noon were spent filling, sanding, priming the bits of the counter that are going to get painted. There might be more, but without Jimmy around, I only did what I positively knew was going to get painted.
Next up, back three baguettes of rosemary challah for Jimmy and Suze's 10th Anniversary Party.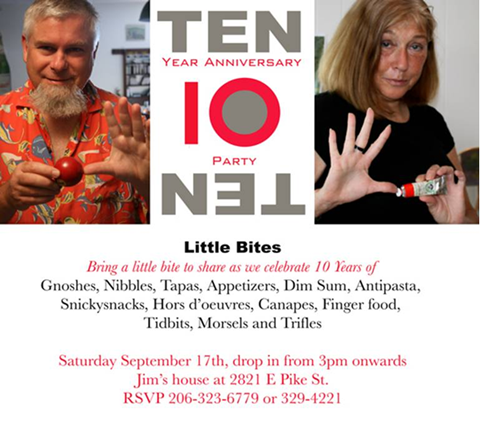 GREAT invitation! And the food — well, most of their friends are foodies, so it was an amazing collection of oysters on the half shell; half a Virginia ham fresh from the oven, salmon cake, figs and dates with gorgonzola, the list goes on. And the wine… probably twenty different bottles of wine open at once. The house was packed because of the less than ideal weather, but a good time was had by all (at least that I could tell). Nice seeing a bunch of folks I hadn't seen in years, two of them with a 9-week old in tow.
Will probably play hell with my weight numbers tomorrow!
[216.3]