So nice to be able to just sleep in this morning, not needing to be out until noon.
DancingBear was a saint and had the coffee on and the bangers cooking (to be held in the oven until we were ready) by the time I rolled out of bed. And speaking of DB, the gout is starting to get under control, which is a good thing since we have a lot of walking and standing today.
Ah, leisure.
Checked out at noon, grabbed a cab and off to Canada Place be we for our next cruise boat ride — this one to Los Angeles.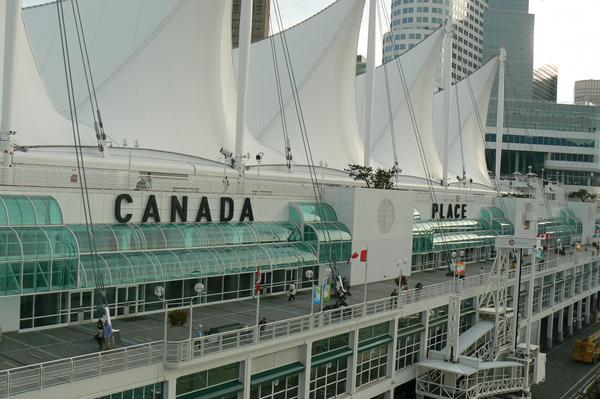 We are VIP status because of our "Suite" status (i.e. we booked a suite) which doesn't shorten the Customs line, it just shortens the check-in line, gives immediate embarkation, and access to our suite while everyone else waits until 1:30. The photo above is from our balcony.
No need for the lifejackets for the mandatory drill, but it still lasted longer than I'd like. Next up was for me to grab my confiscated luggage ¯ the bottle of wine in there, which oddly would have been OK if I had put it in my carryon. Go figure. Surprisingly there were only 5 stopped bags (compared to about 70 on Wonderful and I's Hawaii trip years ago) with one scotch, one baileys, two wine (on mine) and one… travel iron.
Here is a great shot of us going under the Lion's Gate bridge on the way out of Vancouver:
For the first night they are offering a free bottle of wine in the Nouveau Steakhouse ($30 upcharge) which almost makes it worth it. Both DB and I settled on the 18oz. Bone-In Prime Rib Steak with the Caesar Salad while Mick had the Baked Onion Soup, and I went for the Ahi Tuna Carpaccio Tower: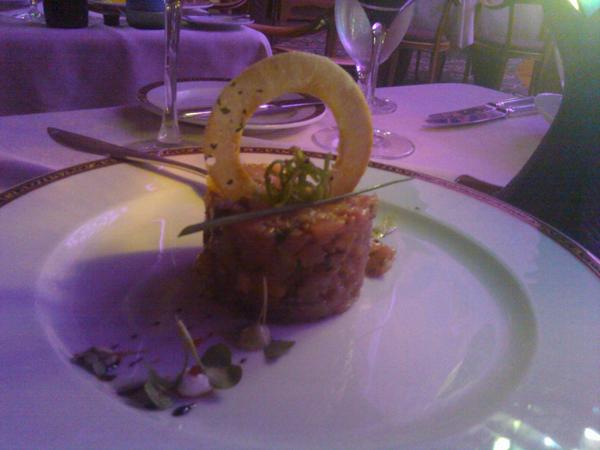 By having dinner early, we missed the Friends of Dorothy gathering at 6:30pm (you can type FOD in the blog search and find a previous post on Friends of Dorothy), but we can do that tomorrow at 10pm as well. Mostly just a quiet night in the cabin with a little knocking back and forth due to the head winds.
[? ? ?] Clueless, but ignoring most of the carbs on the ship.