Another day of sleeping until whenever and having coffee ready for me when I do roll over, though it was housekeeping, not DancingBear do the service (along with bagels for him, and lox for me).
The lox (and coffee) was enough to keep me until noonish when the siren call of the salad bar called my name (and a little protein from the grill section).
Now, onto that metal. I went up to the Lido Deck stage to take pictures of the Hairy Man Contest for Wonderful, who likes hairy men. Apparently I was too close to the stage and got dragged into the act: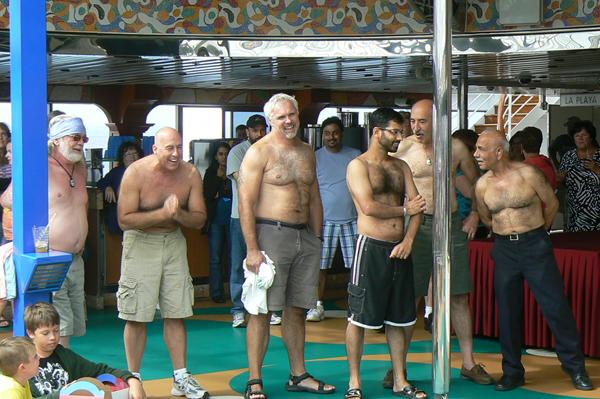 This is the shot of the remaining contestants after I got my 7th place metal (out of 8). But at least I got a medal and was booted before I had to do a Tarzan routine. Considering the three judges were a single woman, a "hot mom", and a "sexy grandmom" (the MC's description, not mine), it's not surprising that the gay guy got kicked out early.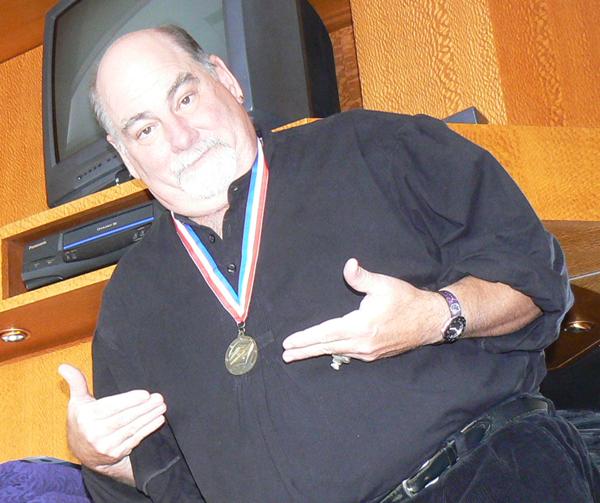 Glacier Cold Martinis starting at 4:30 (Martinis chilled through a card ice slide), and yes, they do rinse between runs, with dinner in the Empire Dining Room (the standard included dining room choice).
Small internet snafu, but by correcting it I make sure I actually get credit for this sailing… apparently my travel agent put in my birth date as the 26th. I found this out when I tried to buy internet minutes and it wouldn't let me. Went to the front desk to inquire why (problem with credit card?) since the internet dude wasn't in the library, no, just a wrong birthdate.
Tomorrow is another day at sea, unfortunately, our last.
[? ? ?]