Nicely got all caught up on blog stuff this morning, AND managed to craft one of the more pretty omelets of recent memory: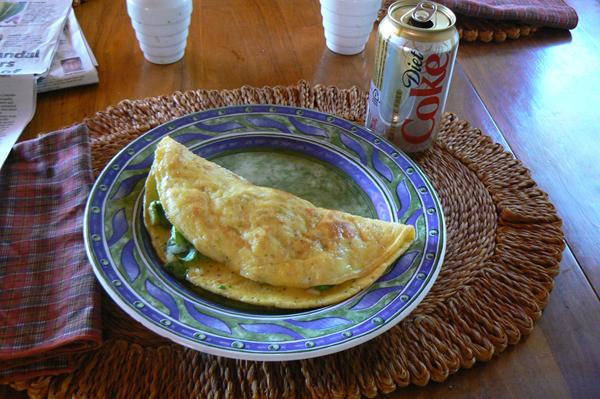 It's stuffed with lettuce, tomato and onions. Yum.
Left for the airport around 12:30 for my 2:15pm flight — much better than Albuquerque (as in closer) but still 45 minutes from the house with my father driving.
My flight was on time, but the poor folks on the 11:30 to Dallas still weren't on their plane yet by the time our plane came and went. In theory I have a five hour layover at LAX to work on the wine inventory spreadsheet (and lunch). In practice, MVP Gold status gave me my choice of any of the three flights between my arrival and my 9:15pm flight. I chose 6:15 which was enough time to make lunch/dinner out of the salad, cheese and cocktails at the Board Room.
While waiting, this massive Singapore Airline Airbus A-380 passed by: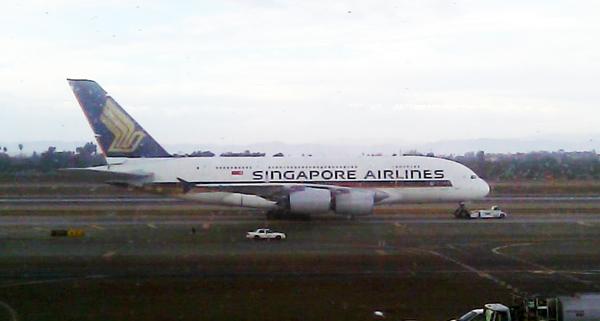 Should you want to see what the seating is like on the world's largest passenger airplane, check out the seting chart at SeatGuru. You'd hve lots of company:
| | | | |
| --- | --- | --- | --- |
| | pitch | width | seating details |
| Business Class: | 55.0″ | 34.0″ |                                 60 Flat Bed seats |
| Economy Class: | 32.0″ | 19.0″ |                                 399 seats |
| Suite Class: | 81.0″ | 35.0″ |                                 12 private cabins with 27″ x 78″ stand-alone flat bed |
Yes, the weather in Los Angeles is very much like Seattle weather today.
I was actually at home, cocktail in hand at 9pm, a full fifteen minutes before my original flight was to have left LAX.
Much nicer.
[214, but analog, so who really knows]