The day before our lease officially begins, still no key to the store, but rather, a standing noon appointment to be let into the space.
Jimmy usually arrives right at noon, with me following at 12:30 to avoid our grumpy landlord.
That said, we had an incredibly productive day at the store. Not only did we get the cash wrap (the place where the computer and cash register go) installed, but we got a wall of wine rack uppers built: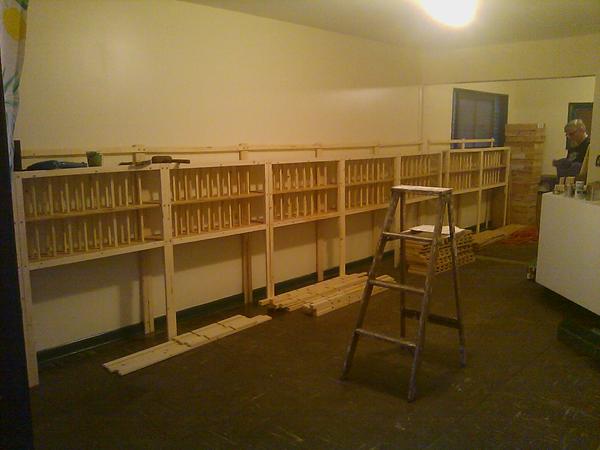 In front of the uppers will be lower racks made from surplus wooden wine boxes.
We ended up working until 6:30 when Suze called (she had worked most of the afternoon as well) to say that dinner was ready — ribs, kale, roasted potatoes. Yum.
Totally exhausted by the time I got home, and the "Case of the Missing Champagne Supports" is still not solved. They are just plain missing. I remember making them, sanding and sealing them, but by the time everything got to the store they were just gone, gone, gone. The choices are that they were stolen from the garage (not likely), or they fell off the truck going up the hills on Madison (possible, but everything was below the level of the bed on the truck. Just plain odd.
[214.0]