Up at 7, to the shop at 10, to a trade tasting at 1:30, home for dinner and a change of clothes, then off to the airport for a 10:30plm red-eye to Miami, only to return tomorrow. The things I do to keep status on Alaska. And to answer the question, no upgrade (for either flight), but I'm packing sleeping pills.
But here is the state of the shop this afternoon. The lower racks on the south wall are done.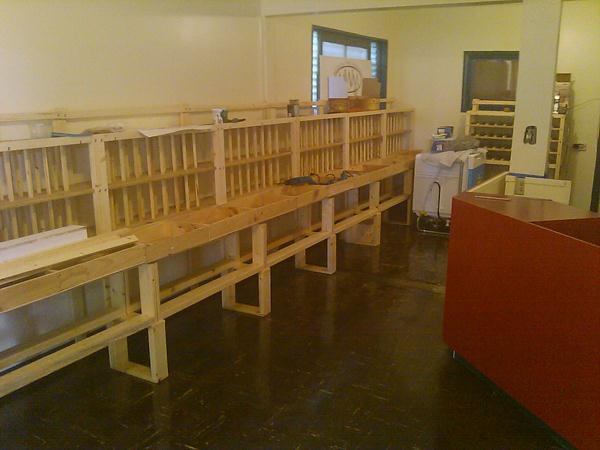 Case storage of the wine in the racks are what goes under the lower display. Note the dishwasher sitting by the back racks, awaiting installation. And then there are the overhead lights, now switched to bare bulbs (better than the nicotine stench from the old lights), but still not the new fixtures we have purchased.
Here is your poll for this evening…
Should the artwork on the walls be:
•Wine maps for the region of the section of wine that you are in front of (50%, 4 Votes)
•Rotating artwork from local artwork, with an available reference manual of wine region maps (50%, 4 Votes)
Total Voters: 8

Loading ...
So, that's the question for today.
[214.3]