Another completely stuffed day for Uncle Markie.
The electrician showed up at 9am to do the knob and tube inspection, and put in an exhaust fan in the bathroom. This is all part of a city program to insulate old houses. For an extra $80, he added an outlet (which you can see in the picture with both my shaver and trimmer plugged in):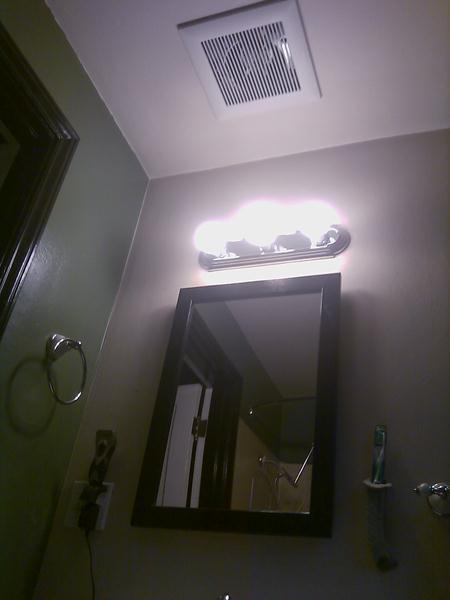 By 11 it was Luna Insulation showing up to drill holes in my walls and filling them with shredded newspaper as insulation. Guess I need to find the remains of the yellow exterior paint for when they come back tomorrow.
Spent a little time rearranging my travel schedule. Cabo san Lucas for Thanksgiving week got cancelled. It's just the wrong time with the store to be going away for a week especially at the beginning of the booze and buffet season. I booked short trips (Wednesday-Friday, days I don't work) to the Bay Area and Denver to still get my MVP Gold status this year.
After they started their work, I started my work out in the garage building the remaining piece of the front window display. It will go under the wine and port boxes shown in the photo below: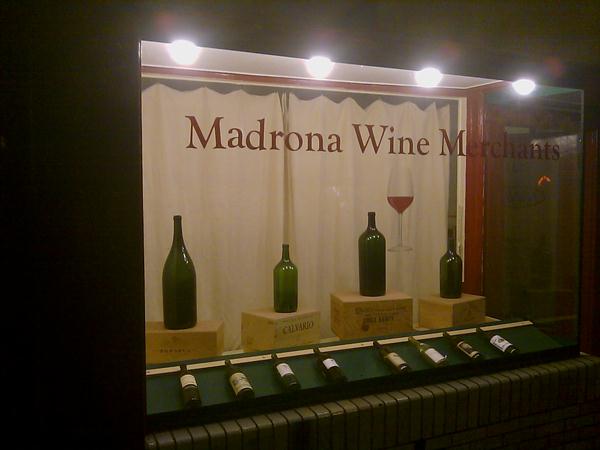 Got that built, then sealed both it and the massive 2'x8′ main display cabinet that will have a glass top that I ordered this morning (along with the cash wrap glass and a piece of mirror for the back of the shop). Next up it off to the shop to:
Install the printer
Round-top staple the phone cord down
Bolt the PC to the cash wrap
Finish the last of the work on the racks (trim pieces)
Rebuild the dishwasher cabinet
Sample wine from the four different reps that showed up
Didn't get out of their until 6:30 (again). But at least a thawed piece of lamb was waiting for me.
Today's interesting email? A follow-up from Alaska Airlines about the Flight Attendant position I applied for August the 1st that was a total lark. The questions they want me to answer (edited slightly for length)?
Have you interviewed for a Flight Attendant position with Alaska Airlines within the last 6 months?
Are you willing and able to accept a domicile base in Anchorage or Seattle?
Are you able to provide transportation, at your own expense, to attend a hiring event in Anchorage or Seattle?
Have you used nicotine in the last 6 months (cigarettes, cigars, cloves, nicotine gum, etc.)?
You will need to pass a background check, drug/nicotine test, and fingerprint clearance – do you foresee any issues?
Are you presently on lay-off status and subject to recall by another employer? If hired, are you willing to resign from your employer?
Do you have at least 2 years of full-time customer or community service experience?
What is your understanding of the Flight Attendant position?
Were you referred to us by a current or past employee?
What are the best times and phone number to reach you this week?
Wouldn't that be bad timing — to land a flight attendant job in the middle of opening a wine shop.
[215.7