It was a VERY early morning after a very late night. It was mid-morning that I realized that I was so asleep in the shower that I forgot to shave. There was lots of napping on the boat ride north.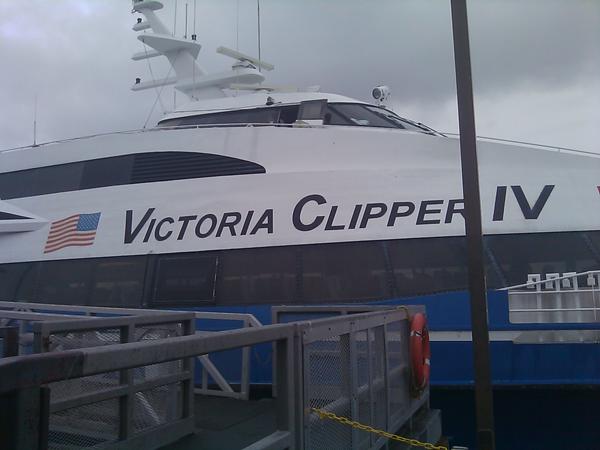 Interesting what happened at immigration. We were the ones picked for more scrutiny. Not only passports, but drivers' licenses which I never heard of before. Onyx was annoyed, but Lunetta and I were more like "they need to justify their jobs." Check-in time isn't until 4pm, so we had plenty of time to kill.
With the room not ready (they hadn't even checked out yet), it was stash the bags and go to Barb's Place for fish and chips (yes, me — that will be my carbs for the month), calamari, shrimp, chowder (the boys). This is there last weekend being open until they return in the spring (just like salmon).
Still no room at 1:30pm so off to the coffee shop we went. VERY comfortable chairs — so comfortable that the boys managed to fall asleep mid-page in their books.
By 3pm we were in the room and trying to decide on dinner. I checked out the mini-mart around the corner (was too tired to think about walking to the big market twelve blocks away) and picked up some soda pop, water and chocolate. Once we decided that we were cooking in, it was off to Finest At Sea, a boutique seafood shop a couple of blocks away for scallops and sable fish (black cod) for the grill and iceberg from the mini-mart for the salad (cook thing I travel with oil and balsamic, though Onyx used lemon juice instead) and stuff for a poo poo platter. Finest At Sea isn't the cheapest (nor is the mini-mart), but it is definitely the freshest.
And here are the results (yes, another blog food shot):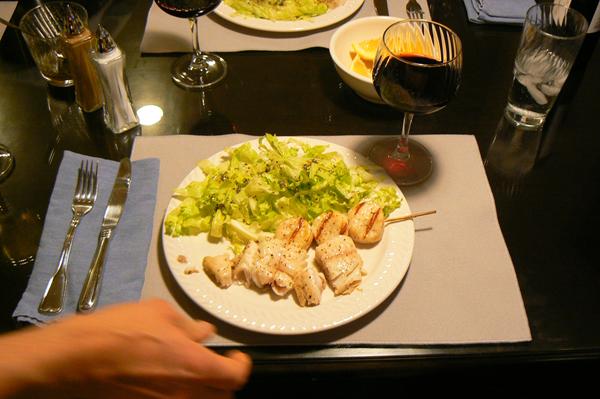 For the first time ever dining with the boys, we had the TV on because PBS was showing "After The Thin Man" with William Powell and Myrna Loy (and a very young Jimmy Stewart). There were about six of these films mad (late 30's early 40's black and white) and the earlier ones are the more boozy ones (before they had a child, just the dog).
Onyx was in bed early, and Lunetta and I headed to the hot tub to lessen our woes (or aches and pains from aging).
[? ? ?]