It seems everyone was a little tired from yesterday. Nobody rolled out of bed until 10:30am. Personally, I needed that extra rest (and still had an afternoon nap as well).
"Breakfast" was at 12:30 after the boys returned from the coffee shop (no Half and Half or Splenda for Onyx's coffee) and featured "European style breakfast sausages" which are basically small links of weisswurst and a cheesy egg scramble.
Lunetta and I headed out mid-afternoon to the "real" grocery store for ingredients for tonight's dinner with CrowDog and RobinHood. On the menu:
Poo poo platter
Salad with yellow and orange tomatoes
Sautèed scallops in a lemon Beurre Blanc
Grilled pork chops
Steamed broccoli
Rolls from Heron Rock Bistro (that we got at Finest At Sea yesterday)
When we got to the check-out like at the Thrifty Food Mart we realized that all our groceries would be in handle-less paper bags. Yikes. It seems Thrifty has endorsed the voluntary ban on plastic shopping bags. Must be recent as the check-out clerk was pretty clueless when it came to double bagging (with paper you insert bag A into bag B BEFORE putting any groceries in, the opposite of plastic). It was a fun walk back on a sunny fall day.
The Salt Spring Island boys (CrowDog and RobinHood) arrived around six for a parade of hats. Lunetta bought three this afternoon and the Salt Springs Boys brought me one as a present: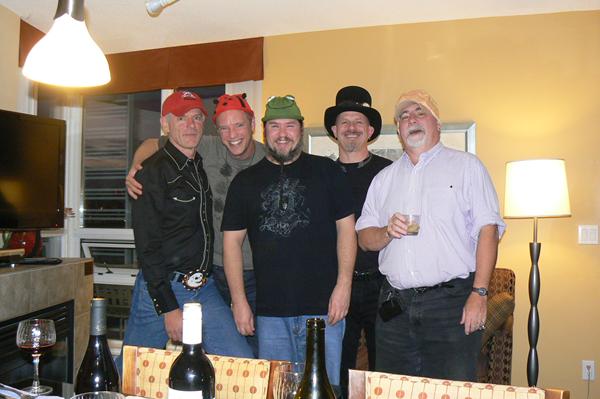 What a fine meal and a fine evening.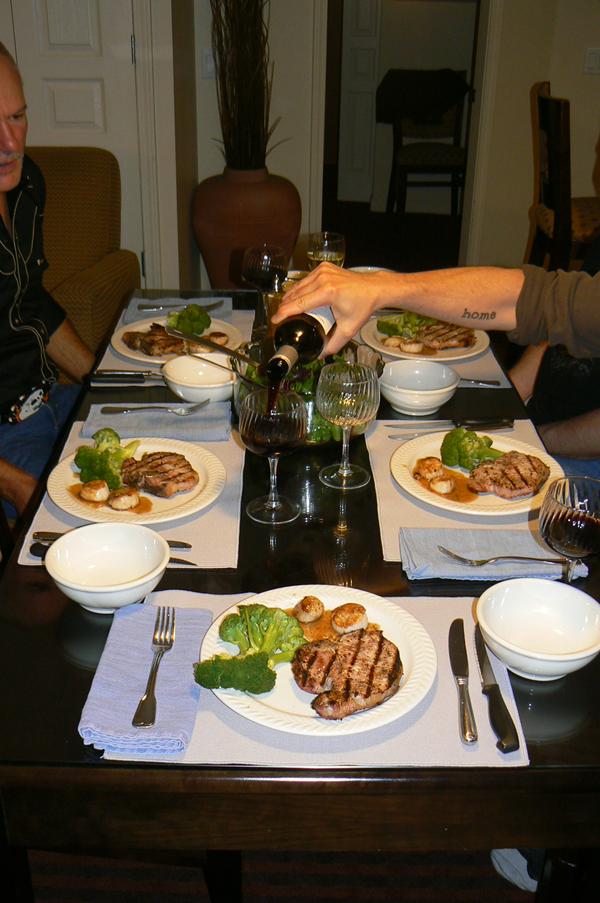 [? ? ?]