Just one more picture from last night. I packed a leather punch so that a belt that I gave CrowDog would finally fit around his skinny little waste. That is beadwork sewn onto buckskin making a pretty striking rodeo style belt buckle. I picked up several years ago at the Faerie Bazaar from Clyde Hall, a first nation's person from Idaho, but the piece is from Leanne Chappell, she a member of the Shoshone Bannock Tribes.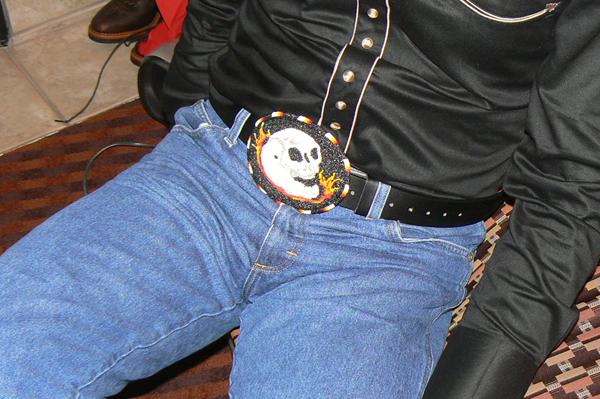 The boys and I were out of the condo on the dot of noon, and headed to the coffee shop and the comfy chairs (and the 10% discount because we are staying at the WorldMark). I stashed my luggage back at the WorldMark, and Lunetta and Onyx brought theirs along as they are taking the bus to the airport (about an hour and a half, but only $2.50 each). As for me, I hung at the coffee shop for a couple of hours, then went off to lunch and had a lovely ceviche at Santiago's Café close to the ferry terminal. The only book I managed to bring was Bourbon, Straight: The Uncut and Unfiltered Story of American Whiskey, which aside from a lack of attention to line breaks in chapter heading, I found to be an informative read. Now I just have to figure out how to circulate it amongst all my bourbon aficionado friends because at $22.95 ($20.66 for the Kindle edition) it's a bit overpriced.
No trouble with immigration, the boat ride, or customs on the other end. Actually customs conversation was as follows:
Them: How are you doing tonight?
Me: Tired.
Them: Any gifts?
Me: No.
Them: Have a nice evening.
Short and sweet. No asking about what I'm bringing back, nothing. Just jumped in a cab and $32 later I'm home.
[? ? ?]