Up early as today is my FIRST alone shop day. Need to be at the shop a little before 11 to crack the safe, fill the till, pull back the curtains and unlock the door.
A few people wandered in between 11-1, but the afternoon was quiet until about 4pm when Jimmy and Ron showed up— and Ron was in a shopping mood, giving me the chance to use the big 10% off button on the register. He walked out with a case of wine, including one of the bottles under glass at the counter, an area reserved for the over $50 wines (date wines).
Shortly after that we were inundated with trick or treaters and were out of candy in minutes. There were PACKS of children. We did treats for the adults in sample of wine, which help save the day wine sales wise.
We even kept the shop open an extra hour to milk the crowds.
Good think that DancingBear is coming for a late Sunday dinner rather than an early Sunday dinner (which is more typical). Roasted pork in a peppercorn sauce, marinated cucumber salad, steamed asparagus, and remainder of last night's Sicilian wine.
And for today's picture, an update on the South Park Bridge construction: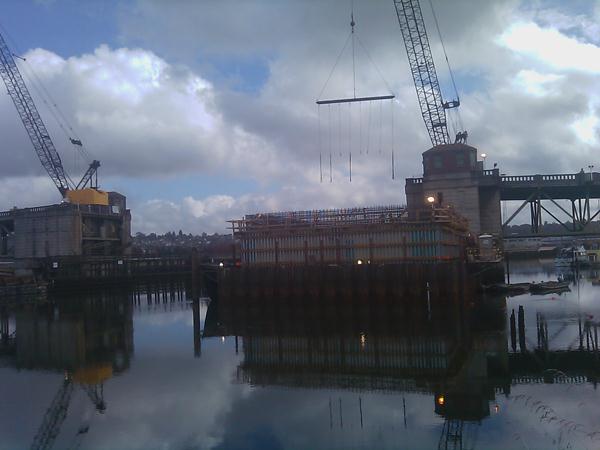 Both of the new support piers are starting to climb.
[213.3]