Nice to sleep in as the laundry list of errands has no particular schedule.
Eastside for bank, Trader Joes, and a couple of thrift store (6 wine glasses for the shop at .45 each). On the return from the Eastside, it's off to the UW Surplus Store to see if they still have $25 dorm fridges (serious disinfecting needed) and other things for the shop. Found the following:
Dorm size fridge ($25, needs serious sanitizing)
Rolex and plastic sleeves for business cards ($1.75)
Under cabinet file cabinet (beat up, but only $5)
2'x2′ carpet squares for behind cash wrap (20 @ .50 each for $10)
5 x 5 dishwasher rack ($1.00 — paid $25 EACH for the other three last week)
Looks pretty funny all stuffed in my car: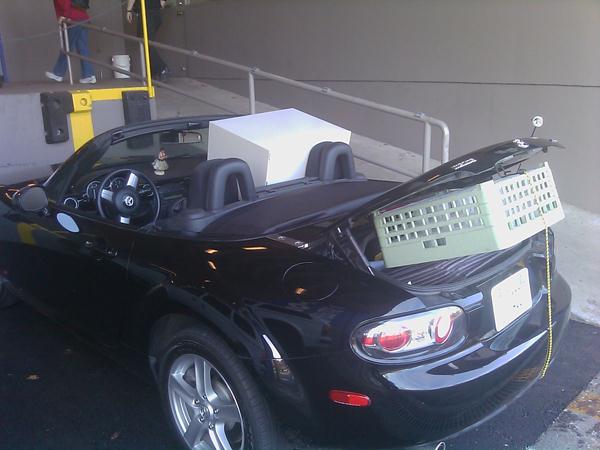 Maybe I should have kept the Mommy Van rather than the Miata. Nah.
Of course, there was a large format printer they had for $200. Didn't have time to power test it, maybe next week. Just what I need (maybe).
Spent the afternoon in the shop getting everything installed. Well, without doing the final cut on the carpet squares. That's tomorrow.
Ginger Pork with Asparagus with a side of marinated cucumbers.
[212.2]