Well, Hugo finall showed up at 11:30 — I left him to finish up the rest of the insulation work in the attic.
Headed to Seaside today — ETA is to be checked in with the BagBoy by 4pm. Stopped in Olympia for gas and to hit the markdown meat rack — scored big time:
Spiral cut ham half
Couple of packs of lamb chops
Bacon
Bratwurst
T-bone steak
Rolled skirt steak with spinach and cheese
Smoked ham hocks
2# of ground bison
And some salad stuff, but basically it was a meat run. Spent $75, saved $45. Not bad.
Actually manages to pick up the BagBoy, dealt with the front desk, signed up for "owner re-eduation" for $75 (more than I paid for the two nights) and we were in the room by four. Since he had dinner planned with his Uncle (no, not this Uncle) I had to get him back to the house by 7.
A funny thing happened on the way home. Backing out of the parking space, I heard this crunch, like running over a can. Didn't think much about it — did the round-trip before realizing I couldn't find my glasses. Retraced my steps and found this by my previous parking space.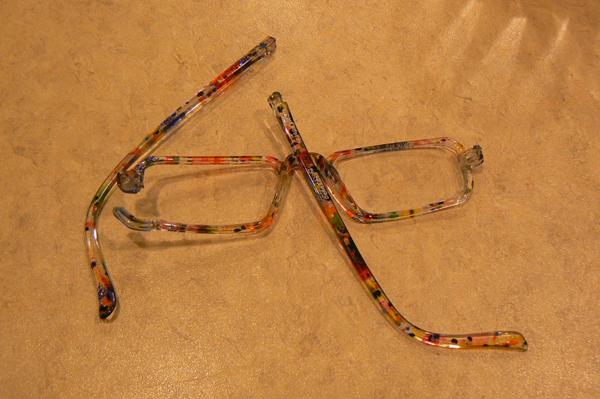 Yes, that would be my reading glasses crushed by my car. I now have one lens left, and no back-up pair in the suitcase (rare).
Had a steak for dinner (should have fired up the grill), watched a little TV, and crashed early, tired from the drive.
[212.0]