Today was my first 8+ hour workday in over 13 years. And no, I'm not expecting ANY sympathy, it's been a good run.
What I realized as I was accepting deliveries, pricing and stocking, is that, "Wow, we generate a lot of cardboard." Maybe I should have kept the Mommy Van instead of the MX-5.
Or maybe I just finally need to order the trunk rack so I can haul more boxes away at the end of a week: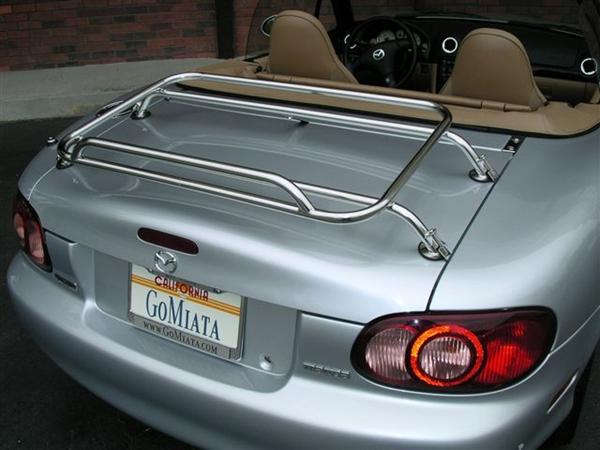 Of course I didn't get it at GoMiata as they want about $50 more for it. Got it from Moss Motors, but I couldn't enlarge the shot on their site… now just imagine all those broken down boxes strapped to the rack. Surely this is a business expense.
Guess I need to put a few more bungee cords in the truck. Expect picture of the rack "in-use" once it arrives. Guess it's like an early Christmas gift to the shop.
For part of the day Jim was at the shop with Missy, setting up our QuickBooks account. Didn't get it done, so they are back at it on Friday… the day that the new wine fridge comes in. When I called to order it this morning, turns out they have a "scratch and dent" unit for $50 less sitting in their warehouse. Makes me feel bad for the wine rep that hauled his down the stairs of his house and over to our shop for us to borrow when we thought it was going to be 2-3 weeks.
Wasn't expecting great sales on a Tuesday, but did better than I thought. Not enough to cover the "nut" of wages and rent, but at least I got a lot of the wine cards done.
It was a rainy day all around, so the nice juicy steak for dinner was a welcome home.
[211.1]