I couldn't stand the thought of getting up at 6:30am to drive to the apartment to catch light rail to the airport. Working until 7pm, then recycling, printer moving, take-out at Swanda's while picking up the book… it was too much. I needed that extra hour of sleep, and apparently I'm willing to pay $60 for it (the difference between light rail and valet parking off airport).
A little Board Room action for breakfast, then off to the gate for an on-time departure. Layover time in LA, three hours. Time for a lunch of half a dozen oysters, a cup of the clam chowder, and the "Yankee Salad", which was OK, but in some ways odd:
The Asian Pears obviously had been cut hours earlier and not spritzed with lemon juice to keep them from turning a bit brown
The dressing had cilantro in it which I like, but I think parsley would have been a better choice
Not enough Blue Cheese crumbles (is there ever enough)
And, of course, I'm not a big fan of candied walnuts, but they are easy to pick out.
But it was a fairly healthy, though not cheap, lunch. Add one glass of Pinot Grigio.
Next stop was the bookstore which I snagged on the last trip, this book: A Question of Belief (Donna Leon) set in Italy and your detective sort of novel with lots of food and wine references. I wish that while I was finishing this book today I'd had access to the internet to translate certain words. Destination for the book now that I'm done with it? My sis-in-law who has an Italian foreign exchange student this year, whom I probably won't be able to see on this VERY short trip. Not sure I'll even see the sis-in-law since this is a midweek trip and seemingly my breakfast, lunch, and dinner slots tomorrow are spoken for.
What I thought was a 3-hour layover turned into a 5-hour layover then the toilet exploded on the plane that we were supposed to board. Apparently they didn't want "blue ice" raining down on California, Nevada, Arizona and New Mexico. You would have thought they'd have been comping drinks as it was a "mechanical" issue.
Lots of calls and texts to folks who were expecting me earlier. Was checked into the condo by 10:30 in serious need of a glass of whiskey (Albertsons in Albuquerque on the way through supplied the bottle).
Then it was time to catch up with all the email, take a picture, do a quickie layout for a 4-up card for the shop and call it a night.
The photo (sans drink for once):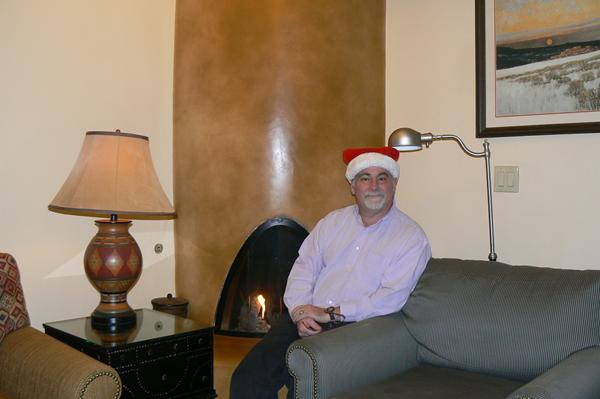 [212.4]