Running around loading the car with miscellaneous stuff needed at the shop and my Jim. I even cut down a couple of shelves for him.
Sundays we are open 12-5, but today, we had a $20 (plus tax) Champagne Tasting of the upper end stuff.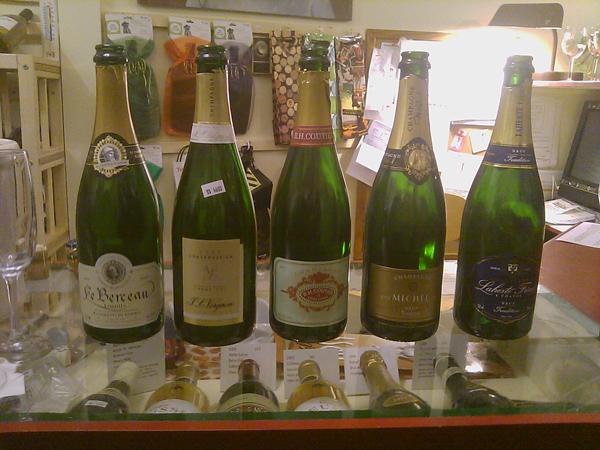 For the tasting notes, check here: http://madronawinemerchants.com/blog/2011/11/29/grower-champagnes-2/
The plan was to open four bottles and compare, but that changed to warming up with a French, not Champagne, but bubbles, then the four, and just for good measure, taking a vote of everyone's favorite and opening a second bottle. The winner was the least expensive of the Champagnes:
Josè Michel & Fils Brut Tradition — $40
Moussy, Cotes des Blancs
60% Pinot Meunier, 40% Chardonnay
The Brut is composed of reserve wines that are 5 or 6 years old. The wine has great toast on the nose, along with ripe but crisp lemon and some orange zest followed by a full bodied mouth feel and a long finish.
We had 18 people for the tasting if you included Jim, the rep from Triage, and myself. I think we have decided that having about 20 people in the shop at once is about our maximum.
After closing up, it was off to Swanda's place with these two 187ml bottles of Prosecco. I'm thinking stocking stuffers.
Pork chops with a Moroccan spice rub and the rest of the coleslaw from last night before putting in 45-minutes or so of Executive Assistant duties.
On one of the runs to the recycling room, found a bunch of stuff in the recycle bins that either shouldn't have been there OR was too good to leave there:
Full ream of 22# copy paper
Scuba dive/weight belt, with two of the five pound weights
Clip on lamp
Toolbox
Not that I'm usually a dumpster diver, but if I can't find a diver that needs the belt, I'll repurpose it into something for me. Just another odd Uncle Markie kind of day.
[211.5]