Not enough hours in the day — I think that's why I've been staying up late for the last week or so.
Lots of running around town today:
Port Chatham (now Trident Seafoods) for Xmas presents
Across the street to the liquor store where they screwed up and didn't charge for $38.95 worth of liquor
To the new branch of my credit union — on THIS side of the water (will be handy as in late December they start tolling on SR-520)
To the apartment to drop off package for the mail, and pick up three while I'm at it
Dinner and work at Swanda's tonight. The apartment is slowly getting put back together since Santa came and took a dump on the place (just kidding, but there IS a lot of Christmas stuff stuffed in there).
Here is an amuzing picture from last night's decorating, a bottle of Maker's Mark in a Marker's Mark sweater and two hand dipped old-fashioned glasses.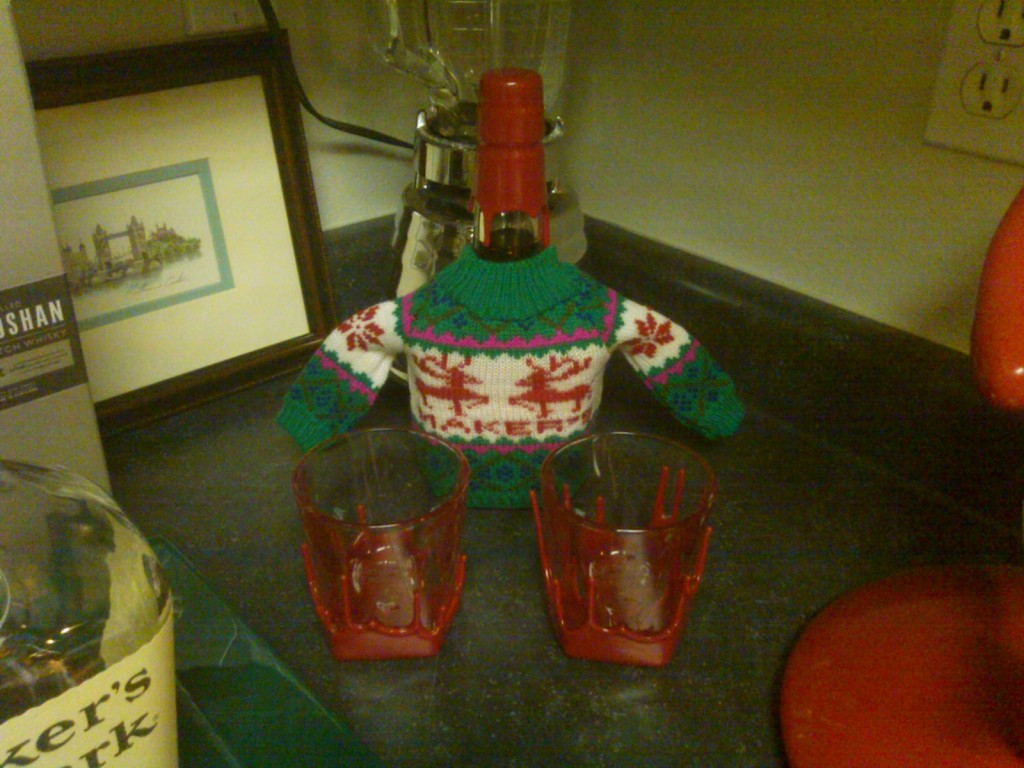 And speaking of Christmas, I've got most of the stuff picked up that needs to be mailed but ran out of time tonight to get it wrapped and boxed. It seems that getting the printer and the postage machine to actual print cards and postage is taking hours.
At least I have the memories of seared ahi tuna, cucumber salad, coleslaw and an odd fishcake/green bean appetizer.
[211.2]