Out of the house at noon, out of Swanda's place after watering the plants at 12:30, and off to the border we go.
Odd thing at the border — the Nexus line was actually LONGER than the standard lines, though it was only a ten minute wait (with no way to get out of the Nexus line once you are in it. The hitchhiker (Jack Daniels) was safely sitting in the front seat. Sort of odd that the crossing guard asked more questions than usual.
Traffic in the city was oddly heavy, maybe the holiday shopping season with everyone taking their cars rather than the bus?
A stop at Safeway for groceries, no need to stop for wine as Solus+ is bringing both a red and a white.
Here is a shot of the view from the condo: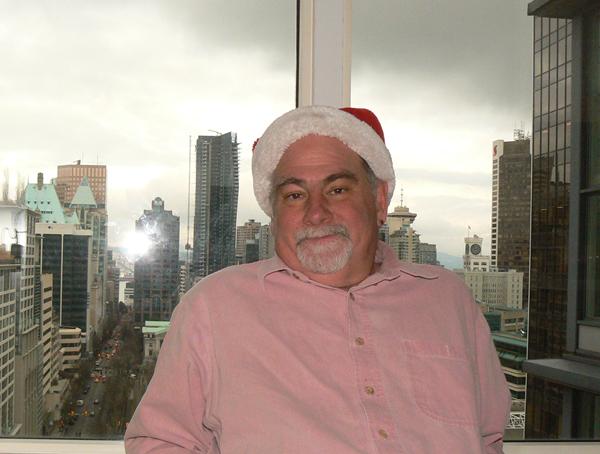 I finally figured out how to force the flash on in "Happy Heart" simple mode — it only took twenty minutes reading through the manual on-line.
By 7 or so both of the boys were here, the pupu platter was out, and cocktails in hand.
Dinner at 8ish with a marinated pork tenderloin, a chunk of backed squash, a large salad. The plan was for a baguette, but I had left them on the roof of my car in the garage downstairs and when I returned they were gone. The funny thing is that a little after 9 the phone rang, it was the front desk asking if I'd happened to leave a couple of baguettes on my car roof. Too bad we were done with dinner at that point.
The rest of the evening was spent in conversations over kilt design, I brought up some WILD fabric for a kilt and Epick is a kilt-maker.
A late night — I see sleeping in tomorrow.
[210.4]