Cold is still lingering, and not really looking forward to lingering in a cold shop all day. The area by the desk we keep a little warmer with a space heater, but generally the shop is about 60 degrees which is good for the wine, but not so good for a cold.
Slow day at the shop, but with Sundays, it's expected. We still had samples open from yesterday's bottles (vacuum sealed) and I managed to sell a few more bottles. We were pouring:
2010 Northwest Wine Academy Riesling $12
2009 Northwest Wine Academy Zinfandel $12
2009 Northwest Wine Academy Cabernet Sauvignon $12
2009 Robert Ramsay, McKinley Springs Syrah $25
2010 Airfield Estates Late Harvest Riesling 375ml. $13
The Northwest Wine Academy is the wine making program at South Seattle Community College with grapes donated by growers in Eastern Washington at pressed and fermented under the direction of a professional winemaker. The Ramsey is a Woodinville Winery and the Airfield Estates is a Prosser winery that got 92 points for the Late Harvest Riesling, which makes it a steal at $13… assuming you like dessert wines.
After shop duty it was off to the Camlin to check in before heading off to dinner. This is one of my favorite postcard shots of the Camlin: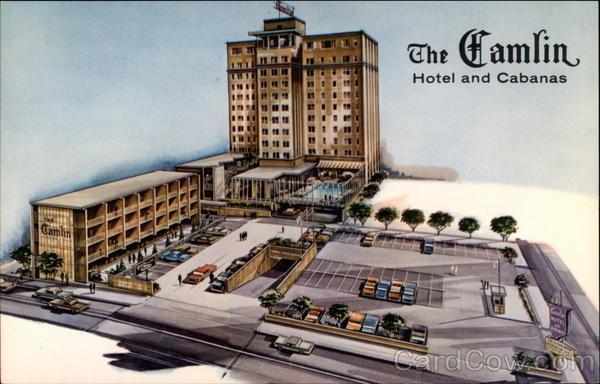 Dinner at Swanda's tonight is DancingBear, Misha, Wonderful, and myself. Though not on either Swanda and I's low carb diet, the main course is a homemade deep dish chicken pot pie (Swanda picks out the potatoes and leaves the crust, I just leave the crust) preceded by a wedge salad with bacon crumbles. Damn fine meal. Damn fine company.
By 9:30 or so I'm back at the condo ensconced in my little studio unit (murphy bed pulls down from wall), but for $40 it keeps me from driving after drinking at dinner, and puts me close to the light rail line for the morning trip to the airport.
[205.0]