Pucci was up and to the gym early. I was not.
Between the lingering cold and the long day I slept in until 10, peed, checked email, and went back to bed until 1. Nothing like having breakfast at 3pm. Guess that means it's a two meal day.
Work in the afternoon — didn't leave the flat even though Fernando gave me a 7-day Charlie Card. So sweet. Websites to revise, proposals to submit, blogs to update. No rest for the wicked.
As the sun went down, it is winter, which means early, it was time to think of dinner… raid the fridge/freezer.
Defrost two chicken breast pieces, chop up some shallots, green onions, bell peppers, a little coppa salami, get some butter in a pan… lay down a bed of arugula and green onion tops, fry up all the rest, top the salad, add the dressing, pour a glass of the "refrigerator white wine used for cooking", call it a meal.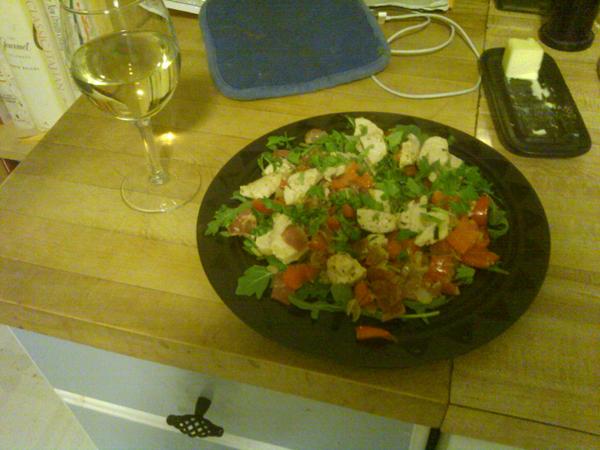 Pucci got back early so plans are laid for tomorrow during the day and for dinner tomorrow night.
All is good.
But there is no scale in the house, so [? ? ?]