Got out of the house at 10:30am which would have been enough time to get to store open at 11am. That would be until I encountered snow and two stuck busses, which caused me to stop, losing my traction. I got onto a side street and was thankful I threw the chains in the trunk. Mind you, they were the chains from my old BMW, but with a bungee cord, I made one side work. Gave up on the other side as my hands were freezing and set out to make the last three blocks to the store.
Open at 11:30 with the first customer at 12:15 — the owner of the Guest House just down the street who came in for a bottle of wine to go home and curl up with. She probably should have stayed, it was a good day for traffic with lots of folks going out for a walk in the new snow (and stopping in for a bottle or six incase the snow continued).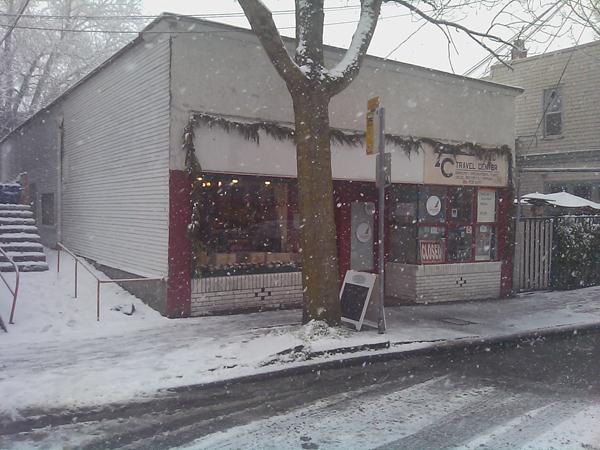 Jim showed up a little before six and offered to close for me when a Number 2 bus showed up at the Number 3 stop. Once he'd had his pee-break he offered to "Free Wire" us downtown. What the hell is that. That would be using any free wires (it was an electric bus) whether they were on his route or not. He was trying to avoid all hills, and go down Jackson Street to meet up with his regular route. My favorite part was when he took a right hand turn from 23rd Avenue onto Jackson, knowing that while there are wires on both streets, there is no "turn" in the wires so he popped the poles off, stopped, and put them on the Jackson Street wires. Too fun. Until that point he was doing this for just 3 or 4 passengers.
It was about six when I rolled (my bag) into the WorldMark at The Camlin. A studio on the second floor, and a 10:30am reservation for owner re-education ($100 AMEX card) that includes what will probably be a high-carb breakfast.
On the way to the room I grabbed a 20% off coupon for DragonFish, which is a block away. Think Asian Tapas. It also turns out Sunday is 50% off Sakè night. Relax with cocktail in the room (yes, I remembered to pack Scotch, but not my toiletries kit). Headed out at 7pm through the slush — at least it had stopped snowing.
Round One: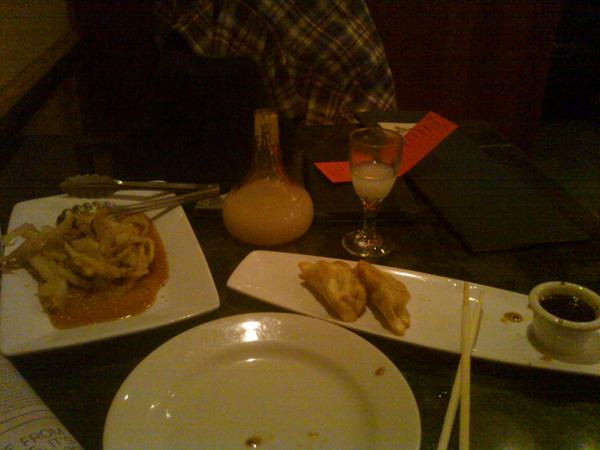 Aladdin Nigori Sakè (keeping the bottle for Onyx), and the Grilled Miso Rib Eye. Damn tasty.
Round Two was the seared ahi which was OK, but nothing to write home about which I find odd as this should be a shoe-in. I got the Thai Crab Cakes (4) to go with it. Half the thickness of most of the Crab Cakes I've seen, but there were four of them for $10 and cilantro aioli was pretty tasty.
I joined the "sakè club", sort of like a tasters club. I'm not sure that I'll get through all 17, but if I keep coming back for 50% off night, it might be possible after a couple of visits. Freebies include t-shirts and cedar drinking boxes.
Back at the condo it was time to start moving my schedule around. Seaside out. I haven't heard from the boy and I'm not driving 3.5 hours without confirmation. That reservation I cancelled last night because months ago I'd booked Swanda in the WorldMark Victoria for the 18th-21st and we know THAT isn't happening and it was too late to cancel and get money back, so off to Victoria I go. But how:
Booked using the Alaska miles, watched a little TV and went to bed.
[209.1]