Nothing like getting woken up to the sound of "Mr. Souder, we are preemptively cancelling all our flights for tomorrow." Thank you for not flying with us.
Call the folks at the Victoria Clipper. We only don't sail for high winds and we won't know until tomorrow. I pray and book ticket, then call WorldMark and get a one bedroom downtown because the snow is supposed to start at 4am. A lotta effort just to hang out in the penthouse condo in Victoria. By the time I'd booked those two thinks Alaska called me about the cancellation and whether I wanted to rebook for another date (which in retrospect is what I should have done).
On the way to the Camlin (the WorldMark property in Seattle) I swing by the apartment to take the mail up and see how the new handicapped toilet installation is coming. ChaChaChaChange. Other half of the toilet still isn't in.
I'm checked in by 3 and back at the apartment with today's mail run and run into Ken, the building super. He's doing what he can on the project while he waits for the other piece to arrive.
By 3:30, having left the car in the garage at the apartment and having taken the bus back to the Camlin (apartment at one end of the bus tunnel, Camlin at the other end, very convenient). Wow, was that a fragment or a run-on sentence?
More change as in dinner plans. Walk eight blocks to Gourmet Japanese to use $25 restaurants.com coupon. CLOSED while the building's exterior is renovated. Bad restaurant. You might have put that on your website.
Walking back to the Camlin I stopped in at Andaluca and had a five course pre fixe meal instead and for way more money, but they do have a full bar. Metaxa Sidecar (no sugar on the rim please) followed by a Manhattan (Jim Beam). The dinner?
Green bean and roasted beet salad
Roasted mussels (in photo below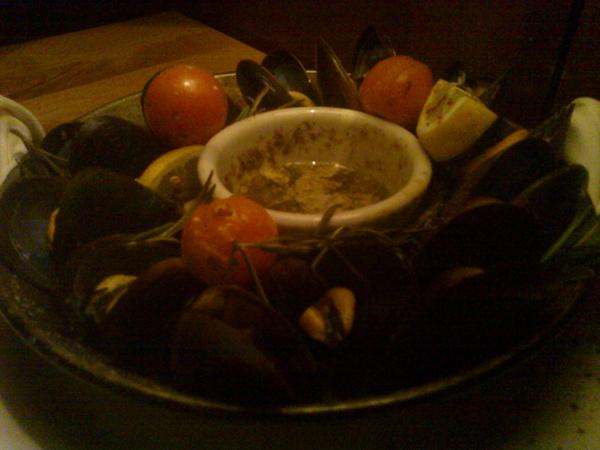 Grilled Quail
Beef tenderloin with blue cheese
Blue cheese with cherry chutney for dessert since they were out of the pumpkin cheese cake
One thing that didn't change? A late bedtime.
[209.9]